Colorado Parks & Wildlife is warning the public again to lock up your trash so bears can't get into it. Area wildlife manager Kris Middledorf says wildlife and police officers have responded to 55 bear-related incidents since April 1. Bears have gotten into trash cans and cars, and one got into a home on Ski Trail Lane last Friday.
Video of a bear trying to get into a bear-proof trash can on Fish Creek Falls Road over the weekend is here on the Steamboat Radio website and on the Facebook page. I shot the video. I was looking out the kitchen window and saw a bear scampering through the backyard. I jumped in the car and headed up Fish Creek Falls Road, hoping to see the big guy. And I did. He was in a carport far off the road, starting to rummage through the trash cans. He made it into the recycle can but could not open the bear-proof trash can which was from Aces High. He stayed there probably 20 minutes battling the trash can before heading out on his way. I was out on the road, with my zoom lens. I tried to call Colorado Parks & Wildlife but there was no answer. No one was in any danger. The really good stuff starts about four minutes in.
This happened tonight in the Fish Creek Falls Road area of Steamboat Springs. The bear gets very aggressive with the bear-proof trash can at about four minutes into the video. And the one particular trash can is definitely bear proof, as you will see at the end. Colorado Parks and Wildlife, Aces High Waste & Recycle, Royal Flush Portable Sanitation Services

Posted by Steamboat Radio on Friday, June 7, 2019
City ordinances say trash needs to be stored in a building, house, garage, or dumpster enclosure. If it isn't wildlife-resistant, it has to be set out after 6 a.m. The fine is from $250-$750. Bird feeders are allowed in city limits but they have to be suspended by a cable or another device that makes them inaccessible to bears from April 15 to Nov. 15. Also, lock your car doors and any first-floor windows or doors to your home.
Here is more from Colorado Parks & Wildlife on how to stay safe when it comes to bears. https://cpw.state.co.us/bears
This video has been shared on the Denver TV stations. Then NBC in New York called, asking for permission to use it! Colorado Parks and Wildlife also emailed me this morning, asking the following, "Do you mind if we use this video, with credit to you, to remind people of the importance of keeping your trash locked up and away from the bears? Also, if you would like to have a staff member come on and talk about this or general wildlife related tips, I'd be happy to help arrange it." This means that people will learn from this video about why you should have a bear-proof trash can.
Because some on our social media pages have expressed concern about why I didn't honk, I want you to see how far away I was. If you look very closely, or zoom in in this picture, you can see the bear in the garage. But this is how far away I was, on the road. And it was a private driveway. And I am not going to get into a battle with a bear, even if I am in my car. I just have a really good camera with a great zoom lens.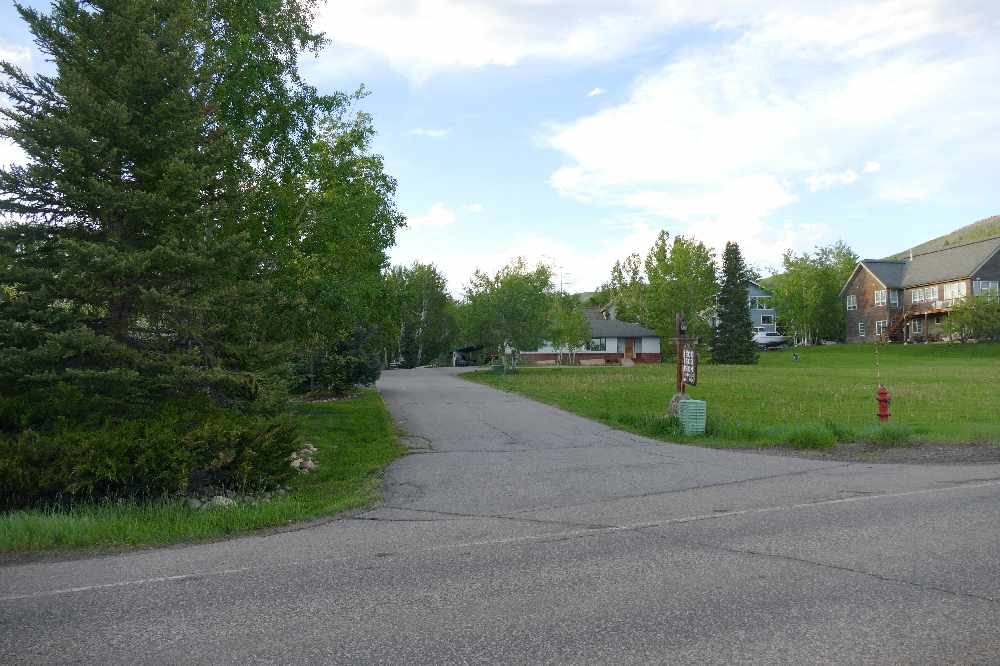 Thanks to all for reading!
Here is some more info that you might find interesting: https://outdoorily.com/bear-safety-guide/