Steamboat Radio News - Shannon Lukens
Travel is not advised right now. Colorado Department of Transportation says drivers should be ready for heavy snow through tomorrow and widespread closures today. A lot of it is for avalanche control. Elise Thatcher is with Region 3 of CDOT.
Thatcher says there isn't any avalanche control planned for Rabbit Ears Pass today, though. There will definitely be closures on I-70. Commercial vehicles will have to have chains. Updated conditions will be at www.COTrip.org
The avalanche danger is high in the Steamboat/Flat Tops area today, according to the Colorado Avalanche Information Center. The Avalanche Warning through 8 a.m. Saturday morning is throughout most of the state because of the heavy snowfall and strong winds. There are very dangerous avalanche conditions. Travel into avalanche terrain is not recommended.
Winter Carnival continues in Steamboat Springs today. The Soda Pop Slalom is this morning at Steamboat Resort. The street events are both mornings this weekend on Lincoln Avenue, followed by the Diamond Hitch Parade Sunday around 11:30. The Night Extravaganza starts at 7 p.m. Saturday at Howelsen Hill. Plan on extra time for dropping people off and parking, which should be downtown, at the rodeo grounds or Howelsen Ice Arena. A map of the traffic management plan is below. Bundle up and always make sure you have your Winter Carnival button to get into the festivities.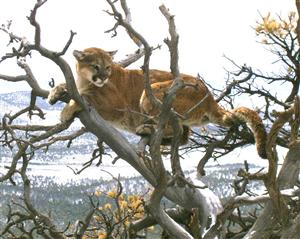 Colorado Parks and Wildlife will have some public meetings in Western Slope communities to talk about the proposed management plan for mountain lions in Northwest Colorado. The plan is about maintaining a stable mountain lion population across the Western Slope. Those who might want to attend the meetings would be hunters, outfitters, farmers, ranchers and landowners. The first meeting is this Monday in Steamboat, at 5:30 at the Parks and Wildlife Office on Weiss Drive. Here's the meeting schedule:
Steamboat Springs: 5:30 p.m. Feb. 10, Steamboat Springs CPW office, 925 Weiss Drive.

Kremmling: 6 p.m. Feb. 11, CSU Extension Hall, 210 11

th

St.

Glenwood Springs: 6 p.m. Feb. 12, Glenwood Recreation Center, 100 Wulfsohn Road

Gypsum: 6 p.m. Feb. 18, Community Center, 52 Lundgren Blvd.

Meeker: 6 p.m. Feb. 19, at Mountain Valley Bank, 400 Main St.

Grand Junction: 6 p.m. Feb. 19, Mesa County Central Services, 200 Spruce St.

Rifle: 6 p.m. Feb. 20, Colorado Mountain College, 3695 Airport Road