Steamboat Radio News by Shannon Lukens
Positive Cases of COVID-19 in Routt County are up again, to 335, according to the Colorado Department of Public Health and Environment. A local group who also compiles the data from the state's website is reporting 87 cases in the last seven days with 116 cases in two weeks. They post those updates at www.RouttCounty.net Their Facebook page is https://www.facebook.com/groups/routtcountynet Routt County Public Health spoke of seven outbreaks at their last meeting. One is at Steamboat Springs High School.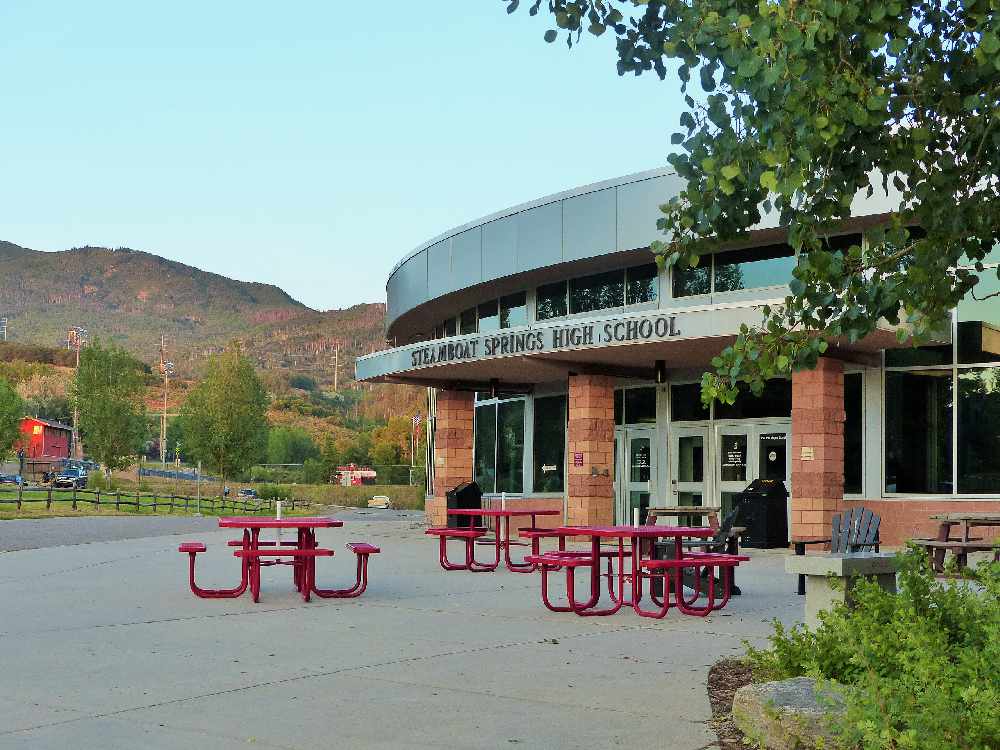 The number of positive COVID-19 cases at the high school is now up to 17. Thirty-two more students at Steamboat Springs High School were given quarantine orders Thursday, along with two more teachers. As of today, there are 329 high school students home in quarantine, with 28 staff. Steamboat Springs High School is closed to students right now.
Students within the Hayden School District were sent home Thursday after a person at the school tested positive for COVID-19. The school district website says Routt County Public Health told the district to send students and staff home as a precautionary measure. Classes within the Hayden School District will resume sometime after the Thanksgiving holiday. The football game between Hayden High School and Soroco High School Friday night in Oak Creek has also been canceled.
In Craig, Moffat County High School is now reporting one positive case of COVID from someone in their high school.
Casey's Pond assisted living facility is reporting that two employees have tested positive this week. They're both isolating at home. All residents and staff are being monitored for signs and symptoms. No one is being admitted to the Doak Walker neighborhood at Casey's Pond right now. Outdoor visits and salon services are also on hold.
A local group has started a movement to get people to be more careful in the community, to stop the spread of COVID-19. It's called SOS which stands for Save Our Season – Stop Our Spread. Here's Robin Craigen.
A GoFundMe campaign has started to raise money to help get the message out. You'll see bumper stickers around town and you'll be hearing about the SOS movement here on the radio.
GoFundMe Link: https://www.gofundme.com/f/sos-save-our-season?utm_source=customer&utm_campaign=p_cp+share-sheet&utm_medium=copy_link_all
Howelsen Ice Arena is closed until further notice because of the new Safer At Home "High Risk" level Routt County is in. Management at the rink is working on a mitigation plan that would allow some programming to continue at the rink. The two outdoor rinks at the Howelsen Hill tennis courts are almost ready to go. Rink staff hopes to have them ready for use by Dec. 1.
A hunter from West Virginia has died in a hunting accident outside of Kremmling. Sky Hi News reports 26-year-old Simon Howell died from a gunshot wound. The Colorado Bureau of Investigation says the shooter was a member of Howell's hunting party and he has been cooperating with investigators. No arrests have been made.
Real estate sales are going up for Routt County. Numbers in September were up 171% from the year before with $154 million dollars in sales. October was up 160% with $59 million dollars in sales. Also in October 2019, there were ten sales above $1 million dollars. This October, there were 43 sales above $1 million dollars. The Steamboat Group reports that overall sales for the county are up 46% year-to-date for 2020.
From Routt County Public Health… Numbers of COVID cases are still going up. Wear your mask if you're out and no gatherings or parties. Help make COVID stop with you.