Steamboat Radio News by Shannon Lukens
The U.S. Department of Agriculture is awarding $6 million dollars to Yampa Valley Electric Association to expand broadband service in Northwest Colorado. 200 miles of fiber cable will connect those who live in rural homes, farms, and ranches in Routt, Moffat and Eagle counties.
The district attorney's office will be filing formal arson charges against 68-year-old Christopher Linsmayer of Silverthorne after he allegedly set fire to 12 slash piles on his property in Kremmling, and then left the fires unattended. The Sheriff's Office and Kremmling Fire had to go to Linsmayer's property twice this week to put the fires out. SkyHi News reports that Linsmayer has had repeated violations of illegally burning slash piles on his property over the years. Both Grand and Routt Counties are still under Stage II Fire Restrictions.
Ballot count… Routt County voters have turned in 11,495 ballots as of Thursday, which is more than half of Routt County's registered voters. It's too late to mail in your ballot. Take it to the secure drop box in the alley behind the old Routt County Courthouse downtown. You can also drop off your ballot at the Clark Store or the Town Halls in Yampa, Oak Creek and Hayden. Routt County has 21,172 registered voters.
One Steamboat Springs Girl Scout is doing what she can to educate girls and their parents about the importance of voting. Gracelyn Roberts is 13 and is in a Steamboat troop, but she lives in North Jackson County. The importance of voting has earned her the Silver Award which is the highest honor for a girl in middle school.
Gracelyn also started a website called The History of Women's Suffrage. Link: https://thehistoryofwomenssuffrage.com/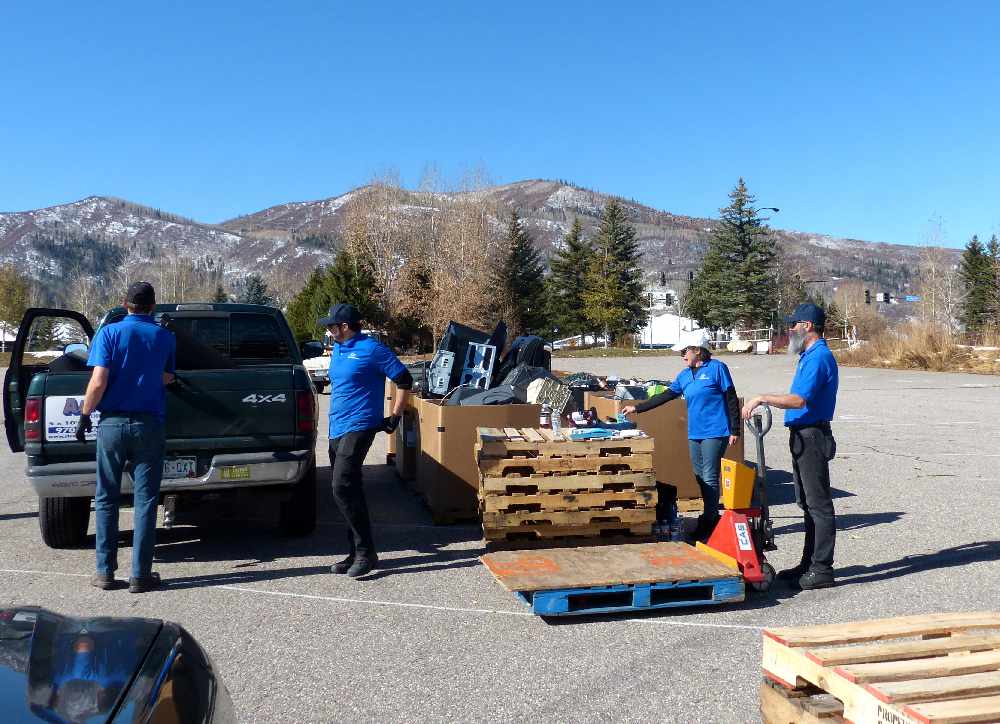 The Community Recycle Dropoff Day is tomorrow. The dropoff is from 9 a.m. to 1 p.m. at the Meadows Parking Lot for electronics. Other items go in the Upper Knoll Lot. Commercial Drop off is in the afternoon Saturday and you'll need to RSVP to Madison@YVSC.org
The downtown Halloween Stroll isn't happening this year but kids can trick-or-treat at homes. Just wear masks, social distance, and wash hands. Mountain View Carwash has a Haunted Car Wash for the last night tonight from 5-8 p.m.
Steamboat Motors has Trunk or Treat tonight as well, and that's from 4-6 p.m.
The Steamboat Digs Dogs Capital Fund (SDDCF) is looking for three volunteers to serve on their granting committee. They'll help with amenities in the Steamboat Springs community that help dogs, like trails and parks. A link to apply is on our website and Facebook page. To apply, please visit https://link.edgepilot.com/s/eab3fdc3/uUr80F50HE_E1Fbfru6mMg?u=https://yvcf.org/steamboatdigsdogs/.
Oak Creek is having a Halloween Pet Parade at the Railtown Gallery on Main Street from 10 a.m. to noon tomorrow. The Routt County Humane Society will be there offering $15 vaccinations for your pets.
In football tonight, Soroco plays Vail Christian and Hayden plays Rangely. Both games are away.
From Routt County Public Health… Numbers of COVID cases are still up. Be careful and stay safe. Help make COVID stop with you.