Steamboat Radio News - Shannon Lukens
Mug shot for Marsha Alvarado
A Steamboat woman has been arrested for allegedly writing over $25,000 in bad checks. 51-year-old Marsha Lambert Maines, also known as Marsha Alvarado, has multiple felony charges. She's in the Routt County Jail on a $10,000 bond.
The parent company of City Market is asking customers to "no longer openly carry firearms" into their stores. Walmart is doing it and now City Market and King Soopers is also asking customers not to bring guns into their stores, at 148 locations in Colorado. That includes Steamboat Springs and Craig. Law enforcement officers are the exception.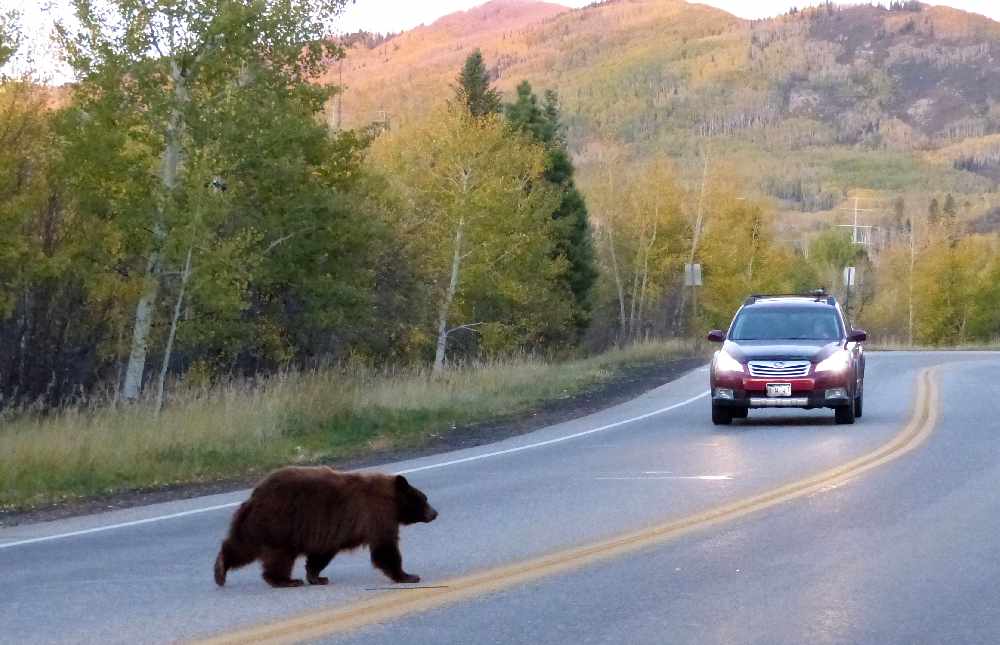 A bear cub crosses Fish Creek Falls Road. Photo by Shannon Lukens.
Hyperphagia is back in the news. Remember that word? It's when bears are really hungry and getting ready for hibernation. That's happening right now. They're spending up to 20 hours a day filling up on more than 20,000 calories. Colorado Parks & Wildlife says to be aware of bear behavior with trash cans, dumpsters, bird feeders, and any food that might be outside. Lock your windows, doors, and car doors. They'll come in they can.
Matt Karzen was in Craig this week. Karzen is the District Attorney for the 14th Judicial District. Karzen spoke about how Colorado's bail and bond system is releasing too many repeat felony offenders on public recognizance bonds. He says it is especially frustrating in Moffat County, when repeat offenders are released soon after being arrested. Karzen says he will decide if he runs for re-election sometime in the next three weeks.
Tonight is First Friday Artwalk. It's from 5-8 p.m. at businesses around downtown Steamboat Springs. Link to locations: https://www.steamboatpilot.com/news/map-first-friday-artwalk-listings-for-sept-6/
The Routt County 4-H Junior Robotic team won big at the Colorado State Fair in Pueblo. The local team took home the first place ribbon, for the second year in a row.
There's a football game tonight in Steamboat. Vladan Chase has more.
And the students are sending word… wear RED to tonight's game.