Steamboat Radio News - Shannon Lukens
A 53-year-old man from Philadelphia died at Steamboat Resort Saturday after falling into a tree well on the Shadows run. Routt County Coroner Rob Ryg identified him as Frank Maimone. Steamboat Ski Patrol performed CPR. An autopsy report will be released today.
Photo courtesy Sam Grey.
The record has been broken.
Steamboat holds the record for the world's largest firework which went off Saturday night at Winter Carnival. Tim Borden is the local pyrotechnic aficionado who was in charge of the launch of the 2,800 pound firework over Howelsen Hill. Guinness Book of World Records was in Steamboat to verify the blast.
The 107th Winter Carnival has wrapped up with street events, ski racing and ski jumping, dog races and horses, and of course the Diamond Hitch Parade. Sarah Konopka with the Steamboat Chamber says turnout was a little low which is probably because of the snowy weather that shut down I-70 on Friday.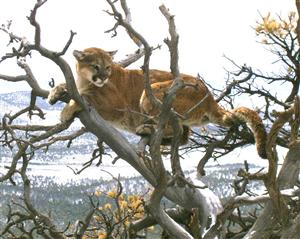 Today is the first meeting of seven public meetings about mountain lions in Northwest Colorado. The meetings will be conducted by Colorado Parks and Wildlife in different towns across the Western Slope. The first one is today at 5:30 in the Steamboat Parks and Wildlife office at 925 Weiss Drive. The next meeting is at 6:30 tomorrow night, at the CSU Extension Hall in Kremmling. Here's the meeting schedule:
Steamboat Springs: 5:30 p.m. Feb. 10, Steamboat Springs CPW office, 925 Weiss Drive.

Kremmling: 6 p.m. Feb. 11, CSU Extension Hall, 210 11

th

St.

Glenwood Springs: 6 p.m. Feb. 12, Glenwood Recreation Center, 100 Wulfsohn Road

Gypsum: 6 p.m. Feb. 18, Community Center, 52 Lundgren Blvd.

Meeker: 6 p.m. Feb. 19, at Mountain Valley Bank, 400 Main St.

Grand Junction: 6 p.m. Feb. 19, Mesa County Central Services, 200 Spruce St.

Rifle: 6 p.m. Feb. 20, Colorado Mountain College, 3695 Airport Road
Xtreme Mountain Racing is hosting some snowmobile races at Hayden Speedway this weekend. The Hayden Vintage & Classic Snowmobile Races start Friday and run through Sunday, with 24 race classes. For more information, call 303-888-9378. Or find a link to the full schedule at: https://www.xmr-racing.com/
The Moffat County School District is proposing a bond issue for the 2020 ballot, to improve the facilities. The Craig Press reports the request comes after a facilities assessment that took 11 months. The study shows nearly $100 million dollars in capital improvements that are needed.