Steamboat Radio News - Shannon Lukens
A man working on the new school in Hayden collapsed and lost consciousness Tuesday. Firefighters from the West Routt Fire Protection district used their new ladder truck to reach the man. He regained consciousness on his way to the hospital in Steamboat Springs. Fire Chief Dal Leck says he thinks it is because of overheating and dehydration and he reminds everyone to drink a lot of water on hot summer days.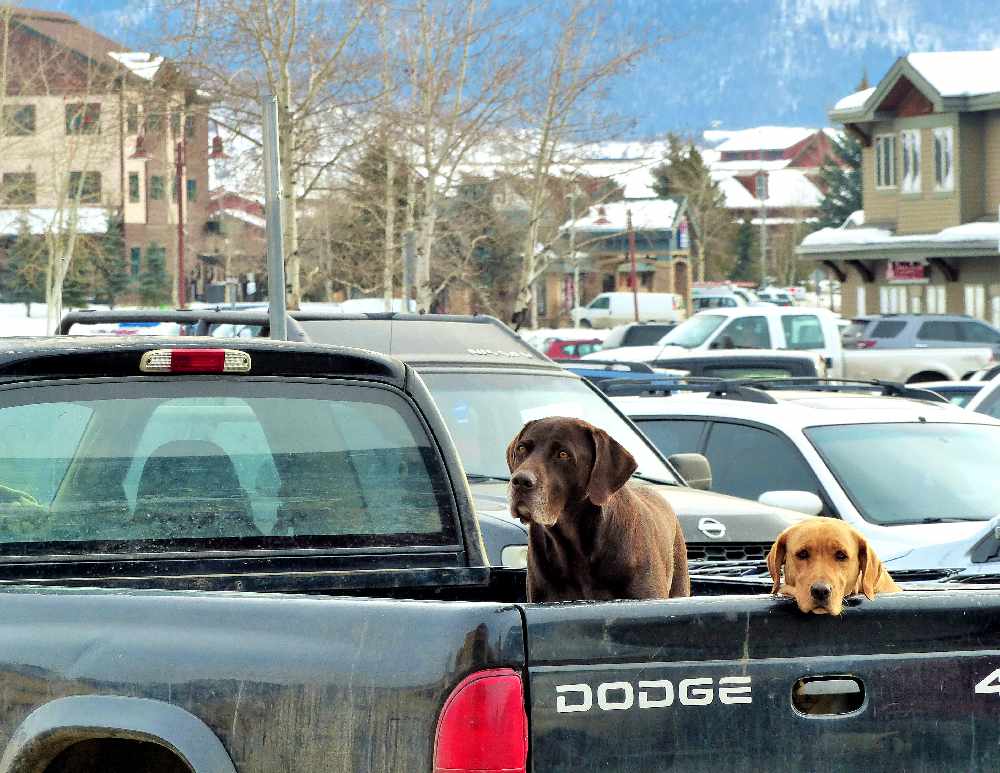 Two dogs wait in a truck at the grocery store, on a winter's day. Photo courtesy Shannon Lukens.
That goes for your animals, too. Don't leave a pet inside an unattended vehicle in the summer, even if it is for a few minutes. It's illegal in Steamboat Springs to leave a dog or cat in an unattended vehicle, or the uncovered bed of a truck, when the outside temperature is at or above 70 degrees. Violators can be charged with animal cruelty and be forced to surrender their pets to authorities. Last week, a dog died in Rifle, after its owner left if inside a vehicle.
Here's more from the City of Steamboat Springs: https://steamboatsprings.net/DocumentCenter/View/12663/Please-Dont-Leave_-Hot-Car-bed-tied-unattended
It's also a good reminder for those going to the Hot Air Balloon Festival this weekend. Dogs are not allowed at Bald Eagle Lake, either.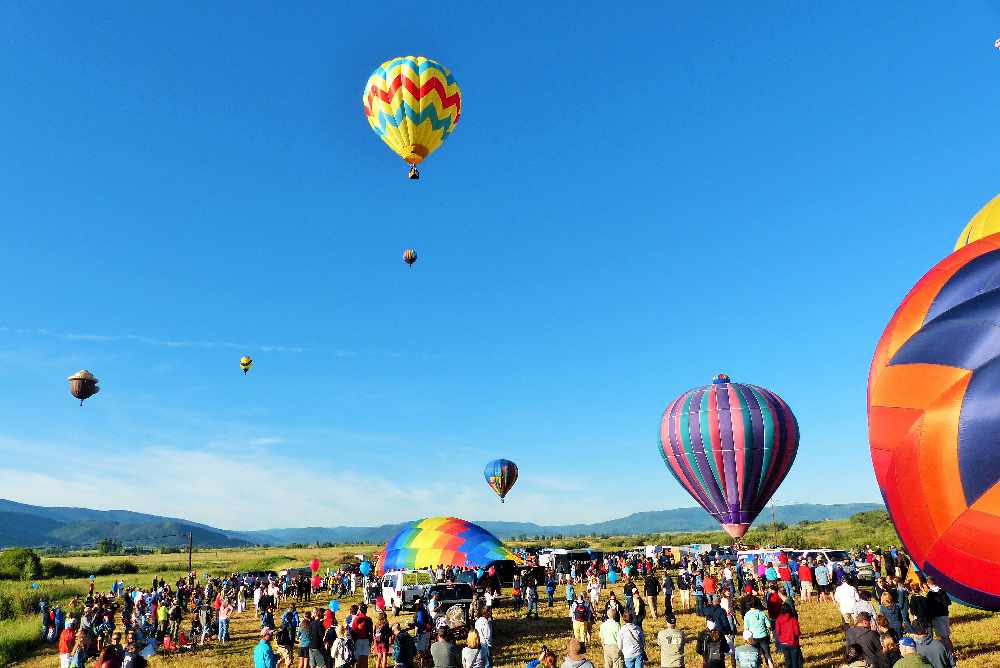 The Hot Air Balloon Festival is this weekend at Bald Eagle Lake. Photo courtesy Shannon Lukens.
The 38th annual Hot Air Balloon Festival is this weekend. Two big changes this year are that it is being run by the Steamboat Pilot & Today, and the Balloon Glow is at Howelsen Hill Saturday night. Here's Pilot and Today publisher Logan Molen.
The launch field opens at 6 a.m. Saturday and Sunday morning. Shuttles will run from the Meadows Parking lot to Bald Eagle Lake. No dogs or smoking allowed at the event. The Balloon Glow at Howelsen Hill starts around 8:15. And it's all free.
Art in the Park is also this weekend, at West Lincoln Park.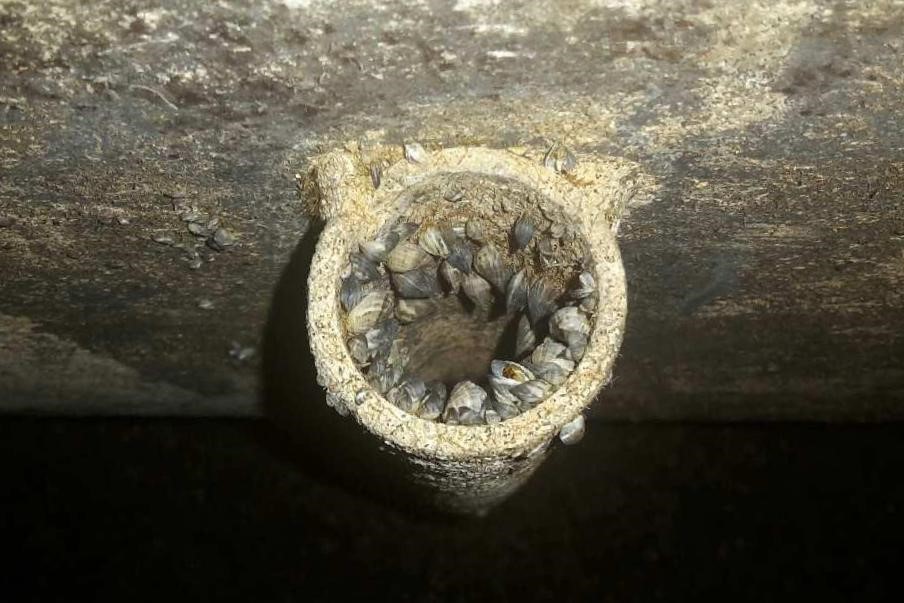 Mussels on a boat. Courtesy Colorado Parks & Wildlife.
Colorado boat inspectors are finding more boats infested with mussels. Most of those boats are coming out of Lake Powell. Colorado Parks and Wildlife says 51 boats have been intercepted, which compares to 26 all of last year. Every boat that goes into a Colorado reservoir is inspected first.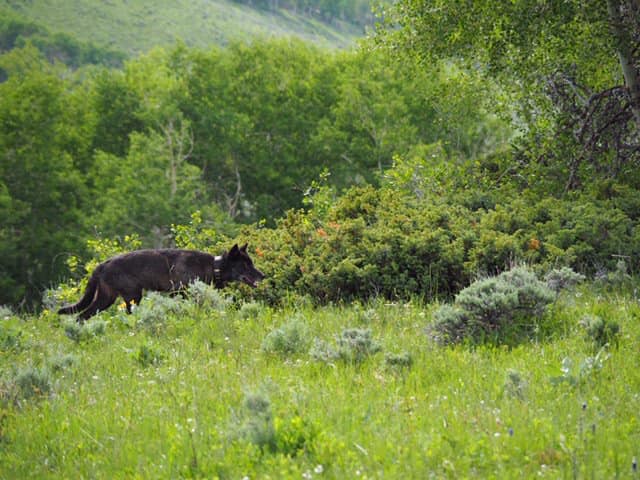 This wolf was spotted in Jackson County. Photo courtesy Colorado Parks and Wildlife.
That wolf that was recently spotted in Jackson County originally came from Wyoming. Wildlife officials have confirmed that it was a wolf, and they say it is from the Snake River pack. It is collared, by Colorado Parks and Wildlife officials say they aren't tracking the wolf's location anymore. But they will be in touch with U.S. agencies. Under the Endangered Species Act, harming, harassing, or killing a gray wolf for any reason other than self-defense is illegal.