Steamboat Radio News by Shannon Lukens
Some Routt County businesses are still struggling with tourists, and getting them to wear masks when in their stores. That's the report given to Routt County Commissioners Monday from Communications Director Robin Schepper. She says the county will work on how to reinforce the Five Commitments of Containment for COVID-19 with those visiting Steamboat Springs. They're planning on creating a sign for the lawn of the old Routt County Courthouse downtown. And a private donor has offered to pay for a banner to be hung over Lincoln Ave., reminding everyone to keep your face covered in public, keep six feet of social distance, wash your hands often, stay home if sick, and get tested if you have symptoms.
Three fires are now burning in North Moffat County. One fire is in Irish Canyon. About 82 acres have burned since Saturday when lightning hit. Four helicopters are working it along with 51 people. It's about 20 percent contained. Mary Beth Pecotte is the Public Information Officer for the Bureau of Land Management. She says crews are working on improving the hand lines they've made. And they're mopping up.
Irish Canyon is County Road 10 and it is open, but the campground there is closed. It's the Incident Command Post.
The Pots Creek Fire is about 65 percent contained, burning 235 acres. It's between Brown's Park and Dinosaur, accessible through Vernal, Utah. It was also started by lightning.
A third fire is the Stateline fire, which also started Saturday on the far north boundary of Moffat County, along the Wyoming State Line. Grass and sage brush has burned 16.5 acres there.
Three residents of Meeker have been sentenced after pleading guilty for poaching two trophy bull elk. It happened last September in the Sand Wash Basin, which is in north Moffat County. 18-year-old Henry Musser and his 44-year-old dad, John Allen Musser along with a juvenile each have to do 48 hours of community service and pay almost $33,000 ($32,787.50) between the three of them in fines and court costs. Plus, the younger two are on probation.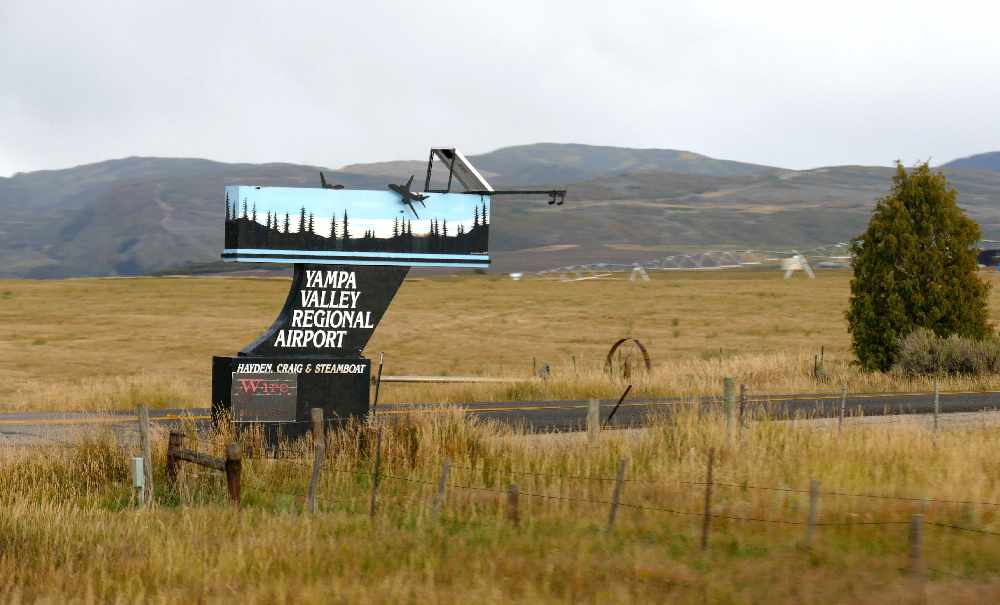 Yampa Valley Regional Airport is getting 133 new seats for the new gate that is being built. Routt County Commissioners approved the purchase for just under $80,000 ($79,251.75). Airport Manager Kevin Booth says most of the concrete and foundation work has been completed at the new gate and the new ticketing area. The steel arrives today.
The new gate at the airport in Hayden is scheduled to open in December.
Howelsen Ice Arena is re-opening Aug. 10. At that time, it will be for private rentals and private groups only and not public ice sessions. The rink is opening next Monday in partnership with Steamboat Springs Youth Hockey Association, who will help to get the rink ready, and will be renting ice time to get local young hockey players back on the ice. It takes seven to ten days to set the ice and paint the lines at Howelsen Ice Arena. Approximately 20,000 gallons of water is used to build the 1.5 inches of ice on the Olympic-sized sheet. The rink was used during the off-time for potential overflow for the Routt County Office of Emergency Management center, if needed. The rink has also recently been utilized by High Altitude Basketball camps.
Northwest Colorado Health is organizing a car parade for residents and staff at The Haven Assisted Living Center Wednesday evening. Decorate your cars and then follow a loop through the parking lot to show support of those residents who are isolated due to COVID-19. The car parade at The Haven starts at 5:30 tomorrow evening.