Steamboat Radio News - Shannon Lukens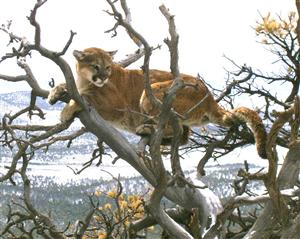 Mountain Lion file photo, courtesy of Colorado Division of Wildlife.
A Steamboat woman spotted a mountain lion on Spring Creek Trail over the weekend. Julia Dordoni was mountain biking when she saw the mountain lion. She was about two-and-a-half miles from the trailhead on Amethyst. The local artist called 911. Dispatchers told her to make a lot of noise. About 45 minutes later, a police officer arrived to walk her out. Mountain lions are most active early in the morning or late in the evening. Colorado Parks and Wildlife recommends to carry a light, noisemakers and pepper spray if you're in the woods. More suggestions from the Steamboat Pilot & Today:
What to do if you encounter a mountain lion
Colorado Parks and Wildlife wants to know whenever you see a mountain lion or notice lion-like activity close to a town, or if a human action causes a change in what the lion is doing.
You can report a mountain lion by contacting Parks and Wildlife's Steamboat office at 970-870-2197. After 5 p.m. or on the weekends, you can report it by calling Routt County Communications' non-emergency line at 970-879-1110.
If you do encounter a lion, the agency recommends the following:
Go in groups

when you walk or hike in mountain lion country and make plenty of noise to reduce your chances of surprising a lion. A sturdy walking stick is a good idea; it can be used to ward off a lion. Make sure children are close to you and within your sight at all times. Talk with children about lions and teach them what to do if they meet one.

Do not approach

a lion, especially one that is feeding or with kittens. Most mountain lions will try to avoid a confrontation. Give them a way to escape.

Stay calm

when you come upon a lion. Talk calmly and firmly to it. Move slowly.

Stop or back away slowly

, if you can do it safely. Running may stimulate a lion's instinct to chase and attack. Face the lion and stand upright.

Do all you can to appear larger.

Raise your arms. Open your jacket if you're wearing one. If you have small children with you, protect them by picking them up, so they won't panic and run.

If the lion behaves aggressively,

throw stones

, branches or whatever you can get your hands on without crouching down or turning your back. Wave your arms slowly and speak firmly. What you want to do is convince the lion you are not prey and that you may in fact be a danger to the lion.

Fight back

if a lion attacks you. Lions have been driven away by prey that fights back. People have fought back with rocks, sticks, caps or jackets, garden tools and their bare hands successfully. Remain standing or try to get back up.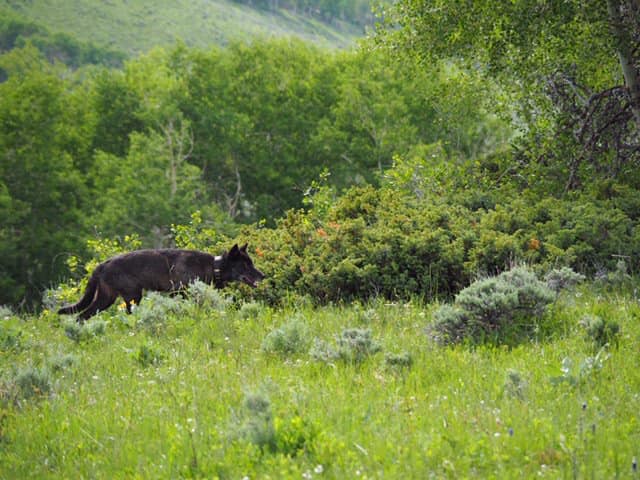 Photo courtesy Colorado Parks & Wildlife.
A wolf has been spotted in neighboring Jackson County, and possibly one in Grand County. Colorado Parks and Wildlife are working to confirm the sightings. If you think you have spotted a wolf, please report it to Parks & Wildlife at https://cpw.state.co.us/learn/Pages/Wolf-Sighting-Form.aspx?fbclid=IwAR2k-0gbjb3P8C-qGVHZtuRpeYhmFZvnLwESG4ASSNQlXS8JQIljhcpQZY8
People can make their own reusable bags using donated T-shirts, from the Yampa Valley Sustainability Council. Photo courtesy Anne Mudgett.
The ban on plastic bags in Steamboat starts Oct. 1. It's an ordinance set by Steamboat Springs City Council. The city is working to purchase reusable bags to give to community members and visitors before the ban starts. A local group is working on the artwork that will go on the special bags from Steamboat. The Yampa Valley Sustainability Council is working on educating the public how to make their own bags. They're also handing out reusable bags made by the Boys & Girls Club.
Arrest warrants have been issued for four men who were caught transporting roosters across state lines, and through Summit County earlier this year. The birds were allegedly being raised for cockfighting which is outlawed in every state. The birds were taken to the Summit County Animal Shelter, where they stayed for about three weeks, but they eventually were euthanized last month.
If you are headed to the Front Range, I-70 westbound near the tunnel is closed from 11 p.m. tonight to six tomorrow morning. It's closed in the other direction Wednesday night. Traffic will be rerouted over Loveland Pass. Find out more at www.cotrip.org.