Steamboat Radio News - Shannon Lukens
The city code that would help build affordable housing has been taken off city books. Steamboat Springs City Council repealed the ordinance last week, after the affordable housing ordinance was on suspension for the past seven years. It required developers to either build homes that are deed restricted to people making a certain income, to have them dedicate land, or pay a fee.
Four out of five school board seats are up for re-election in November. According to candidate filings, Mayling Simpson wants to reclaim a seat on the board. She resigned last November after her husband got a college teaching job in Virginia. She hopes to fill the two-year term available in the election. She will be challenged by Chresta Brinkman and Andrew Heppelmann. Kelly Latterman replaced Simpson last year, and is seeking to stay on the board in one of the three four-year terms that will be decided in the upcoming November election. Incumbent Joseph Andrew is seeking re-election. Other candidates who are running include Kim Brack, Lara Craig, and Tony Rosso.
Oak Creek celebrates Labor Day in a big way. The parade on Main Street through downtown Oak Creek had kids and horses, and animals, and 4H members. The Routt County Republicans, and the Routt County Democrats each had a float. The Soroco High School Class of '69 rode through on a flatbed, there were plenty of fancy cars, and lots of candy for the kids. Then everyone went to Decker Park for horseshoes, volleyball, cornhole, basketball, and wife races.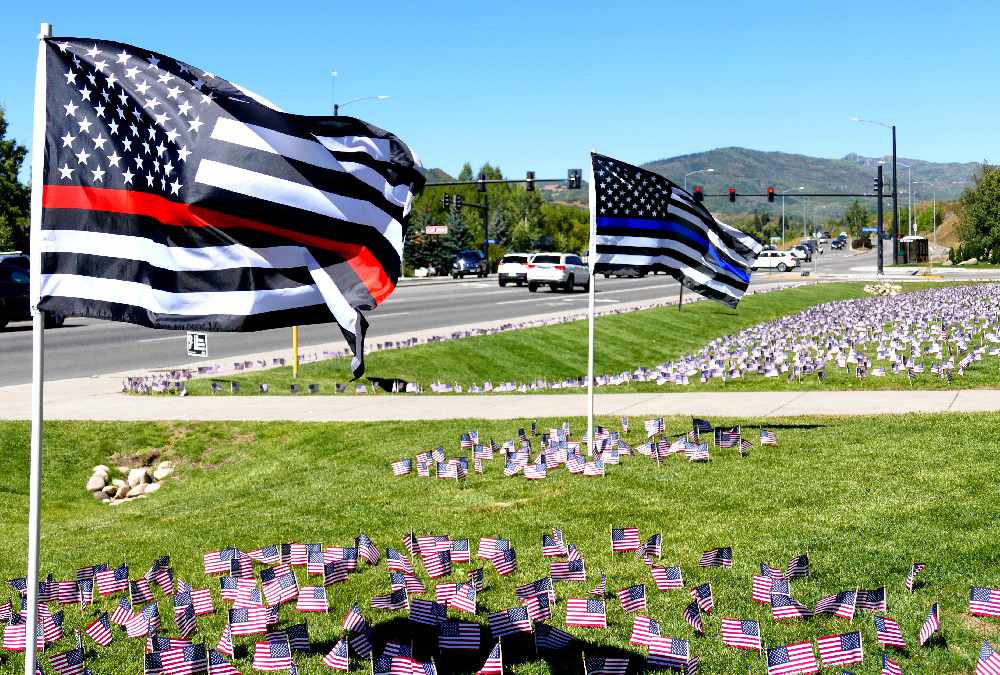 The flags are going up on the lawn at Yampa Valley Bank next week, over 6,000 of them. It's the 9-11 Never Forget project. Paxton and Kendra Sollars are twins, and juniors at Steamboat Springs High School. They're running the project for the second year in a row.
The flags remembering 9-11 will start getting put up at 2:30 next Tuesday, Sept. 10. If you can help, stop by Yampa Valley Bank that day.
The Steamboat Sailors football team won their home opener last weekend. The team is wearing new helmets this year. The VICIS Zero1 Youth Helmets received the highest rating awarded for a youth helmet. The coaches worked together to get the helmets for players from middle school to 12th grade. Athletic Director Luke DeWolfe says safety is a top concern for Steamboat athletics, especially with the awareness of brain damage, head safety, concussion protocol. Another new thing is energy-efficient LED lights at Gardner Field. There are four posts with eight fixtures in two rows, each one fitted with a shield that aims the light down on the field rather than out into the surrounding homes. The lights are part of the original bond deal for the field renovation, in 2017.