Steamboat Radio News by Shannon Lukens
Routt County is reporting 21 new cases of COVID-19 in the past week, with 31 cases in the past two weeks for a total count of 194. A full update will be given in today's bi-weekly Public Health Meeting. It starts at 10 a.m. and you can listen to the meeting via zoom. The Routt County Covid-19 Dashboard is at https://www.covid19routtcounty.com/
Zoom link for the Public Health webinar: https://us02web.zoom.us/j/85106670945?pwd=UXZZSGx1Q01Mc0s2cklGVk13Qld5UT09 Password is 522.
Routt County Board of County Commissioners have extended the local Emergency Declaration until Dec. 3, for the eighth time. Extending the Declaration of Local Disaster in relation to the COVID-19 pandemic is an administrative tool that can help facilitate access to funding and other resources available during response and recovery.
A Hayden man is in the Routt County Jail for nine charges, including 2nd degree burglary, larceny, and theft. 31-year-old Joshua Milligan was already serving a sentence on other charges. Hayden Police Chief Greg Tuliszewski said burglaries had been happening in storage units. They had probable cause to get a search warrant on Milligan's residence in Hayden.
Chief Tuliszewski says the investigation happened because of interagency cooperation with the Moffat County Sheriff's Office. Milligan has a court date today, more court dates scheduled for next month, and a jury trial on four other charges of second degree assault, reckless endangerment, false imprisonment, and obstruction of a telephone in December.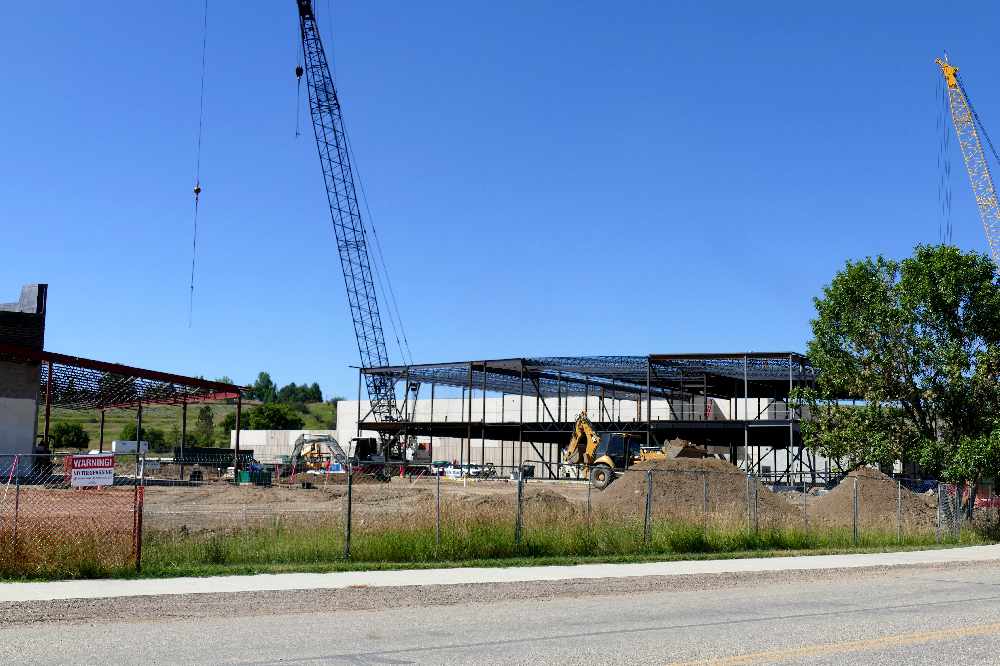 Tomorrow is the last day of school for students in the Hayden School District, in their old building. Students and staff will move in to their brand new, pre-K through 12th grade school on Nov. 2. Here's Hayden Superintendent Christy Sinner.
The Hayden School District has hired a moving contractor for the move. They'll have help from staff and a few strong students. That first week in the new school is also Homecoming Week. The ribbon cutting is at 1 p.m. Friday, Nov. 6.
Eight fires are burning in Colorado right now. The Colorado Division of Fire Prevention and Control says fire danger will increase throughout the state because of the wind and critically low relative humidity over the next few days.
Ballot Count, 5,352 ballots have been turned in by Routt County residents so far. The breakdown among the three major groups have 2,158 from Democrats, 1,057 from Republicans, and 2,077 unaffiliated.
The Oak Creek Board of Trustees meets this Thursday. The meeting starts at 6 p.m. in the Town of Oak Creek offices. The public is asked to attend via Zoom or Facebook Live.
Agenda: https://townofoakcreek.com/wp-content/uploads/files/documents/TownBoard/Agendas/2019/Agenda%2010-22-20.pdf
Join Zoom Meeting
Link: https://us02web.zoom.us/j/81449378638 Meeting

ID: 814 4937 8638

One tap mobile (for call in meeting)

+1-669-900-6833, 81449378638# US (San Jose)

+1-346-248-7799, 81449378638# US (Houston)
A bus route from Craig to Denver is being proposed by Colorado Department of Transportation. The Bustang Outrider would roll through Steamboat Springs. CDOT would like your opinion on potential stops and schedules. The survey is up through the end of the month and on our website and Social Media platforms. The potential bus route would start early next year.
Link to survey: https://www.surveymonkey.com/r/Craig-Denver
From Routt County Public Health… Wear your mask and remember to social distance; help make COVID stop with you.