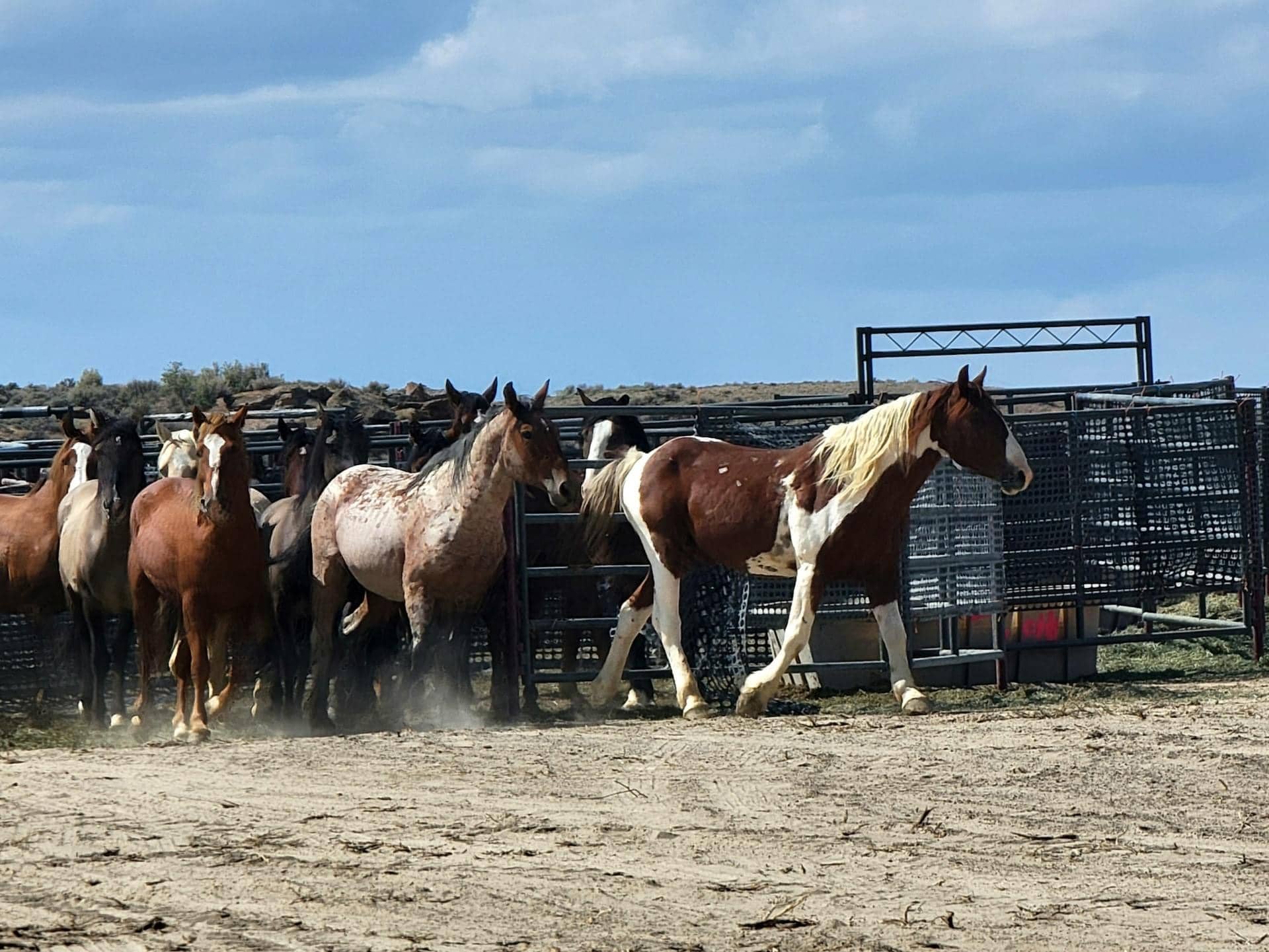 By Shannon Lukens. File photos courtesy Bureau of Land Management.
UPDATE: Thursday, April 28  The BLM is reporting  the total number of fatalities of horses is now at 95. The cause of the respiratory disease outbreak is likely an equine influenza virus that can affect both wild and domestic horses, according to the Bureau of Land Management.
Link to the press release from the BLM.
UPDATE Wednesday, April 27  The BLM is reporting the total number of fatalities of horses is now at 87.
UPDATE: 5:29 p.m. Tuesday, April 26 The BLM is reporting that ten more horses have died, for a total of 67 today.
Programs: Wild Horse and Burro: Herd Management: Herd Management Areas: Colorado | Bureau of Land Management
UPDATE Tuesday morning, April 26  https://www.blm.gov/programs/wild-horse-and-burro/herd-management/herd-management-areas/colorado
The Cañon City facility has been placed under quarantine and laboratory tests are being completed to identify the fatal illness that has killed 57 horses since the outbreak began on April 23. An independent veterinarian and a federal veterinarian is on-site to help diagnose and treat animals. Horses showing signs of contagious illness are quarantined from the population.
Fifty-seven horses have died at the Bureau of Land Management Wild Horse facility in Canon City since Saturday. That's out of 2,550 at the holding facility there. Here's Steven Hall with the BLM.
The facility is under a voluntary quarantine as the BLM says the unknown disease is highly contagious and can be fatal. The BLM is working with local, state, and federal officials to determine the cause of death of the 57 horses. The horses that were gathered from the West Douglas area near Meeker last fall have been the most impacted, and there are still a few there that were gathered from Sand Wash Basin.
There is a BLM horse auction scheduled for May 20-21 in Hayden and Hall is unsure whether that will still be happening right now.
The BLM has a link to updates on the outbreak on their website.