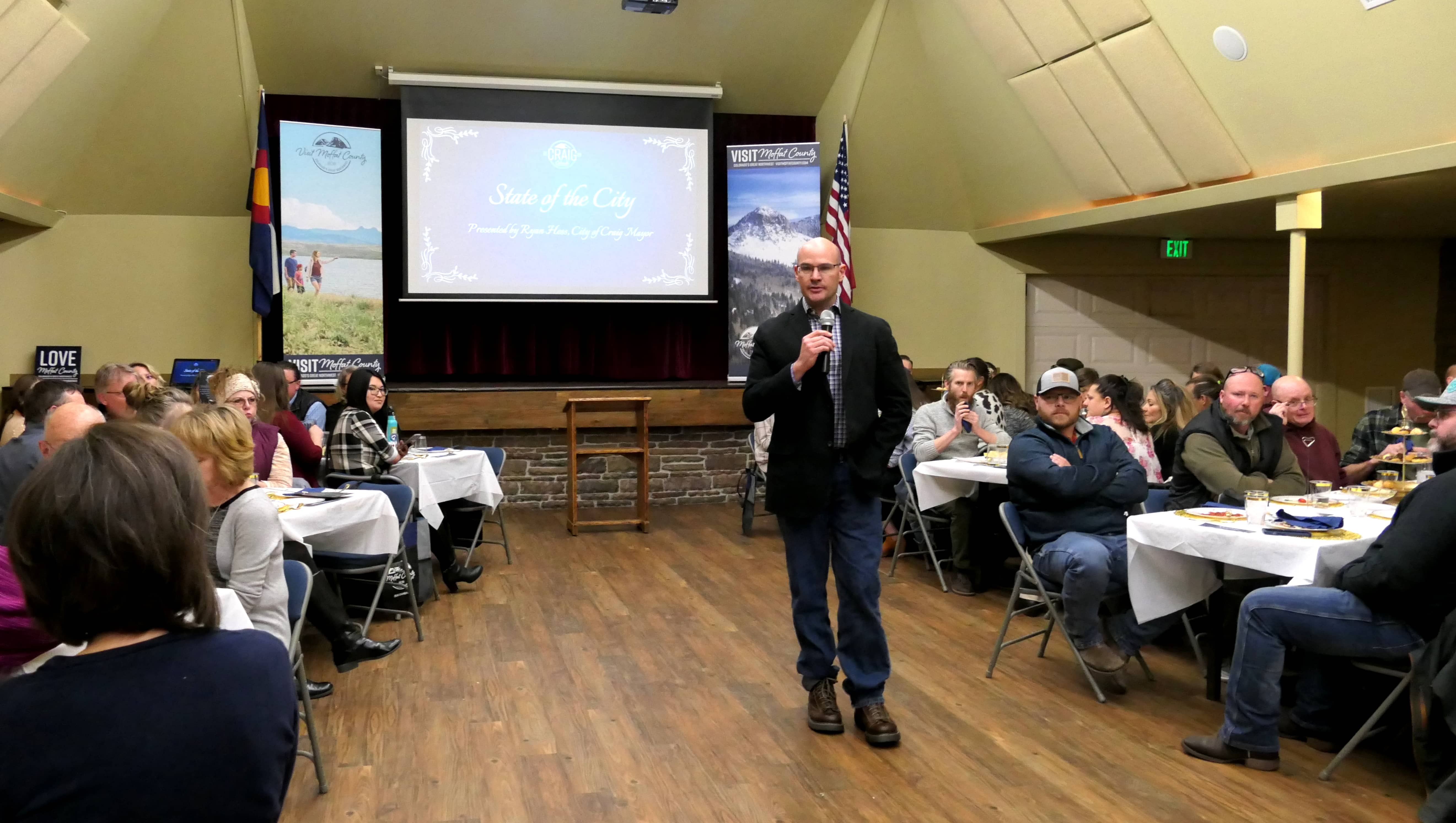 By Shannon Lukens.
Craig celebrated the State of the Community event Wednesday night. The event was in the Pavilion at the Moffat County Fairgrounds and hosted by the Craig Chamber of Commerce.
Here are those who were recognized: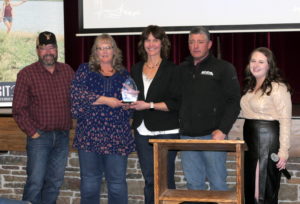 Business of the Year is: West Twin Cinema in Craig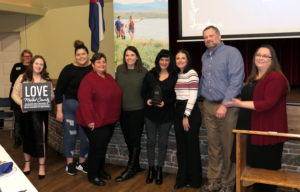 Best Customer Service is: Bank of Colorado, presented by Sasha Nelson, Craig Chamber Board Member. Nelson added that we all need to continue to grow and retain businesses, and recruit new businesses to the area.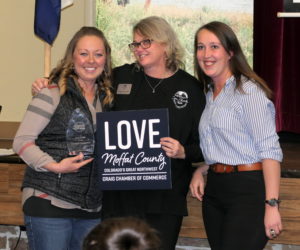 Change Maker is: Olivia Scheele with Memorial Regional Health, presented by Kirstie McPherson, Craig Chamber Board Member
"I'm very honored to receive this award. I've worked very hard for our community and I'm glad that I can accept this award on behalf of all the health care workers providing care in our county."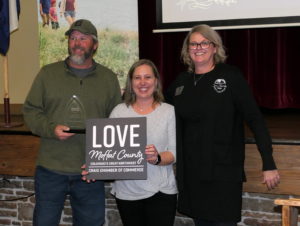 The Craig Chamber Special Recognition goes to the Northwest Colorado Chapter of the Parrotheads for their work on the Yampa River Project. Craig Chamber Executive Director Jennifer Holloway presented the award. She said that the Parrothead volunteers are a perfect example of, "what we need for our community to move forward and advance our opportunities and create a better home for all of us."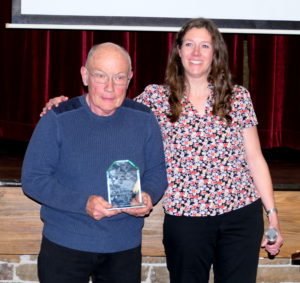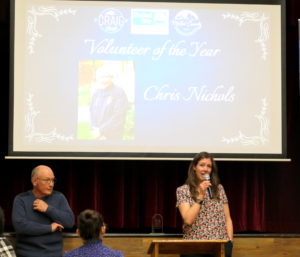 Volunteer of the Year is former Craig City Councilman Chris Nichols who serves on many boards. His award was presented by Heather Fross with Moffat County United Way. She said Nichols has made Moffat County, "a better place to live, work and play."
"Well it's a total surprise. You don't join organizations like this to have that kind of recognition. You join these organizations that you have a passion for to hopefully make them better. Hopefully, over the years and through contributions, our groups have grown, it can be anything from the fire department that I joined as a firefighter in 1986, and still fighting fires for the airport in Hayden today. Trying to make a difference. That's all it is."
Nominees
Business of the Year: West Twin Cinema, KS Kreations, Memorial Regional Health, and Miller Family Appliance
Best Customer Service: Prodical Son's Coffee House & Eatery, Vallarta's of Craig, Bank of Colorado, and Great Divide Cleaning Service
Change Maker: Olivia Scheele with Memorial Regional Health, Pat Jones with Love Inc., Tom Kleinschnitz with Visit Moffat County, and Kandee Dilldine with KS Kreations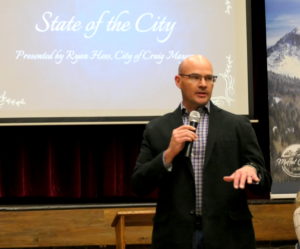 The evening started with the State of the City, presented by City of Craig Mayor Ryan Hess. He spoke about the coal plants closing and how no one knows exactly when that will happen. Hess said he doesn't know where the community will be in five years but he is hopeful to see closure. He said it is not as dark as it seems and there are a lot of things to look forward to.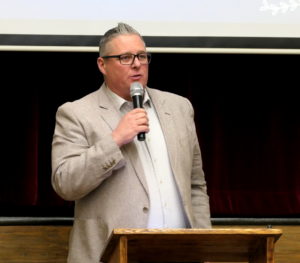 Moffat County Commissioner Tony Bohrer spoke of the State of the Community. His comments were about the reintroduction of wolves and the effect it will have on the county. He said Feb. 22 is the final comment period to the Stakeholder Advisory Group with Colorado Parks and Wildlife. He encouraged everyone to submit their comments. Link to comment
Bohrer said the new county building will open the second week of April and that county offices will be closed for a week during the move. He was happy to report that county employees received raises this year. He was also thankful for the working partnership between the City of Craig and Moffat County. He says the two entities are working great together and moving forward together.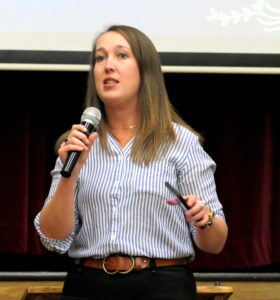 Craig Chamber Board Member Kirstie McPherson spoke on the State of the Chamber, thanking staff for their hard work in organizing the event. She said chamber organizations are changing across the country. She says the local chamber is developing a good marketing plan and they are working on regional partnerships. The Yampa Building has received a $500,000 grant. It will help to build a commercial kitchen. This is where the Craig Chamber offices are located.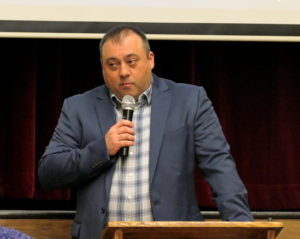 Tri-State/Colowyo Plant Manager Travis Sondrol spoke on the State of the Industry. He said he has been designated to close down a power plant with the help of his employees. They will do it safely, reliably, and affordably and be good stewards of the community.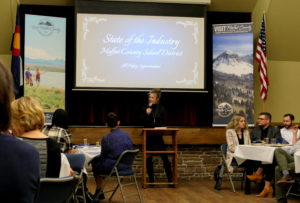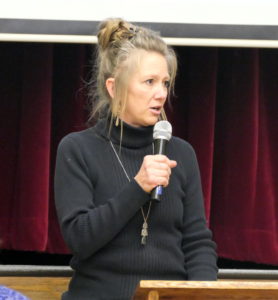 Jill Hafey is the Superintendent of the Moffat County School District. She spoke of how the three elementary schools in Craig are aligning themselves on classes and curriculum. Hafey said the district is creating partnerships with groups like the Boys & Girls Club of Craig, Moffat County United Way, Colorado Northwestern Community College, Craig Parks & Rec, Department of Human Services, Open Heart Advocates, Northwest Colorado Health, and Moffat County Youth Services. She especially thanked the hard work from those with Craig's Road and Bridge Department to help make sure the kids and buses get to school with all of the snow lately.
She said the four-day weekly schedule has been a challenge but they are being creative in getting through it.
Hafey says there are open positions within the school district that are not getting filled. It's not just a local issue, it is a national issue. She says they are using an Elevate K-12 service that can provide a teacher through a TV with a paraprofessional in the room. MCSD is doing this with a math class and a science class.
Hafey says the district has a handful of bus drivers and that "they're amazing." But they still need some bus drivers, especially to take athletes to games. Sometimes the coaches have to drive the buses.
Hafey says there are great programs within the district such as a fly-fishing group, Girls on the Run, DECA, FBLA, FFA, and SWAP. The pre-school program has 150 kids; 60 of them are three years old.
Hafey said three Moffat County Students have been chosen for Questbridge.org scholarships on the basis of their academic excellence and outstanding essays for inclusion into the Questbridge College Prep Scholars Program. They are Diana Arellano, Haely Mendoza, and Cristian Morales Ayala.
She concluded that the Moffat County School District has an amazing staff of about 350 employees. She encouraged everyone to come to the events, such as the sporting events. She said Craig and Moffat County is a great place to live. She raised her four boys here and plans to retire here.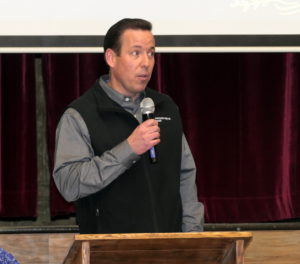 The next speaker was Kyle Miller, the Chief Operating Officer for Memorial Regional Health. He spoke of the high quality of health care professionals at MRH. He said satisfaction statistics have gone up among patients and with staff. CEO Jennifer Riley has been holding regular Town Hall meetings with staff. He praised their work through the pandemic and added that MRH has zero percent hospital infections. He said they have been using "travelers" which is a traveling medical professional service to help with staffing needs at the hospital. He said the hospital received $3M in federal grants last year.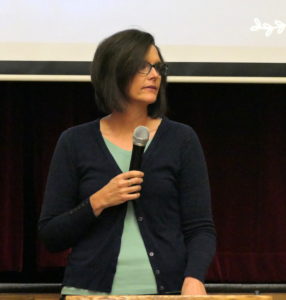 Cathrine Blevins is the VP and Commercial Loan Officer for Yampa Valley Bank. She said the biggest problems today are fraud and scams and cyber criminals. They find ways to separate you from your money. She says, "We need to educate people." She says it is happening in the community but people are embarrassed that it happened to them so they don't want to talk about it. She says these people are giving away all of their money to someone that they have met online or on social media and it is all a scam. She said she has seen it firsthand and it is painful to watch when people lose all of their savings and their home to scammers.
It is Identity Theft Awareness Week. Here is more from the office of Colorado State Treasurer Dave Young on how you can be aware of fraud and identity theft.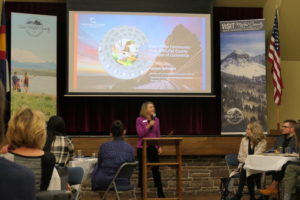 The keynote speaker for the evening was Lauren Schwartz, the Director of Investor Relations for the Colorado Chamber of Commerce and the Executive Director of Association of Colorado Chambers of Commerce.