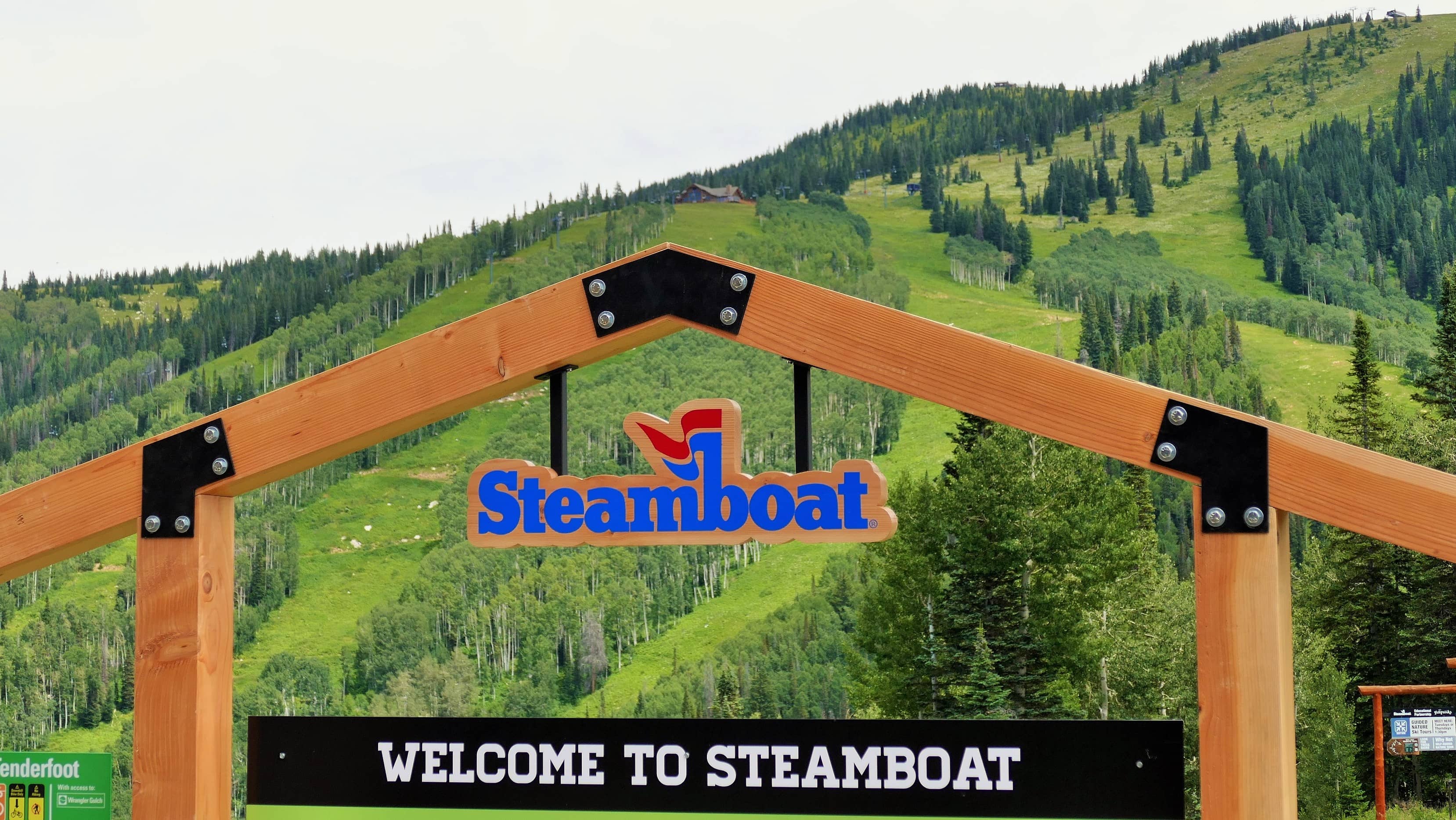 By Shannon Lukens.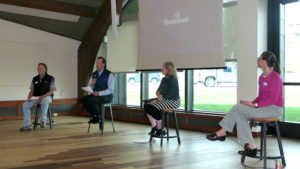 Steamboat Resort hosted a Town Hall Monday night to talk about the snowy season, the 60th anniversary of the resort and Full Steam Ahead. Here's President and COO Rob Perlman.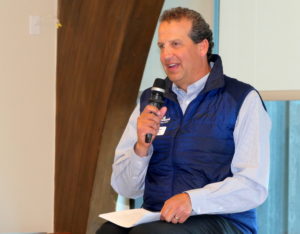 "145 days, the second snowiest on record, a lot of great things happening at the resort, including our 60th anniversary. We are so excited and proud to be a part of this community and looking forward to the next 60 years to make this place even better, and to collaborate with the community and all of our locals."
Perlman said it was "one for the record books." Of those 145 days on the snow, there were 92 days when it was snowing and 52 of those days were Powder Days in the 'Boat, which means more than four inches of snow. He added that it was the first time in 30 years that Steamboat Resort extended the season for a week, wrapping up with 448" of snow at mid-mountain and 564" at the summit. He said it "brought the moods up and energized the community."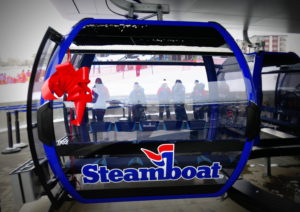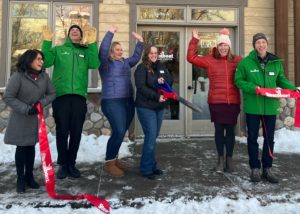 Perlman praised things like the redesigned Steamboat Square, Skeeter's Ice Rink, the lower section of the new Wild Blue Gondola, the Greenhorn Ranch beginner area and the new childcare center.
OnTheSnow.com readers voted Steamboat Resort as the Best Overall Resort for 2023.
The Mountain Travel Symposium Summit awarded Steamboat Resort with their highest honor, which is the Summit Award.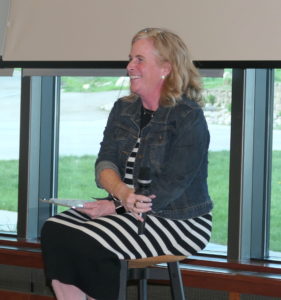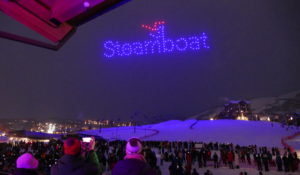 Vice President of Brand and Resort Strategy, Katie Brown, raved about the Drone Show at the 60th anniversary party. She said she knew it would be a good season when, "it started snowing in October and it never stopped."
Brown added that Steamboat Resort gave back $1.5M to the community and 60 local organizations. She said the Winter Flights Airline Program had six airlines serving 16 nonstop destinations out of Yampa Valley Regional Airport, which is more than any other regional airport in Colorado (and Jackson Hole and Sun Valley). She says the weekend non-stop service from Houston will continue this summer, from June until September. She also said First Tracks passes will go on sale in the next month or so.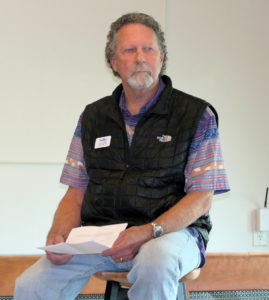 Vice President of Planning, Jim Schneider, announced his retirement after 41 years with the resort.
SCHNEIDER ANNOUNCES RETIREMENT FROM STEAMBOAT RESORT
Schneider said Phase III of Full Steam Ahead should be complete this summer. There will be new snowmaking at Sunshine Peak so that part of the mountain can hopefully be open by opening day. The second leg of the Wild Blue Gondola will be going in. It will then be the largest, longest, and fastest passenger gondola in North America. At the base area, there will be a 40% increase from 6,000 passengers per hour to 10,000 passengers per hour.
Schneider says Pioneer Ridge will now be called Mahogany Ridge, adding 655 acres and a 4-person detached quad, the Mahogany Ridge Express. It will make Steamboat the second largest resort in Colorado.
Summer operations include the Bike Park, the Range Food and Dining Hall, Sunset Happy Hour, Movies on the Mountain, and events at Skeeter's Ice Rink. Gondola rides start up May 26 and run Fridays through Sundays through June 11. The regular season starts June 16, operating daily through Labor Day, and then weekends in the fall, depending on the weather. Gondola rides are accessible for 2023/24 Ikon Pass holders
Bike Park hours are 10 a.m. to 4 p.m. A season pass is required to access the Bike Park.
Schneider said they are considering what to do with the Gondola Transit Center. They would like to add a high-speed gondola from the Meadows parking lot to the base area. They are working with the city on a design. And they're working on parking improvements. They're also working on a concept with the Regional Transportation Authority to include Hayden and Craig, to help workers get into the community.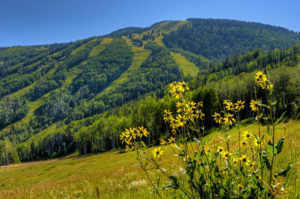 Press release from Steamboat Resort; May 16, 2023.
Steamboat Resort Summer Operations
STEAMBOAT SPRINGS, CO – May 16, 2023 – Steamboat Resort will open for summer operations on May 26 with scenic rides on the Steamboat Gondola Fridays through Sundays, and Memorial Day through June 11. Beginning June 16, daily summer operations will begin including scenic chairlift and gondola rides, the Steamboat Bike Park with access from the Steamboat Gondola and Christie Peak Express lift, hiking tours, Skeeter's Rink yard games, and dining through Labor Day. The Steamboat Bike Park and Steamboat Gondola will continue to operate on weekends through the fall as conditions allow. Happy Camp, Sunset Happy Hour, and Coca Cola Movies on the Mountain will also be offered.  Summer operating hours will vary throughout the season. Please visit the Steamboat Resort mobile app and steamboat.com for updated hours.  
Full Steam Ahead 
Construction continues both on-mountain and in the base area as the resort moves forward with the final phase of Full Steam Ahead. On-mountain construction will include the installation of the upper leg of the Wild Blue Gondola and the Mahogany Ridge Express Chairlift. The upper leg of the Wild Blue Gondola will continue from the mid-station at Greenhorn Ranch to the top of Sunshine Peak. The Mahogany Ridge Express Lift will service the Mahogany Ridge and Fish Creek Canyon terrain expansion to include an additional 655 acres of expert terrain. Work in Steamboat Square this summer includes completion of The Range Food and Drink Hall and Creekside level services. The Range will offer a full bar, grab-and-go, and dine-in food options this summer. Once complete, the Creekside level will offer snow-front services for guest lockers, ski valet, and additional restrooms. Updates on construction and timelines are available at steamboat.com/fullsteamahead. 
Steamboat Bike Park, Rentals, Guides & Lessons 
Steamboat Bike Park returns this summer and will operate daily June 16 through Labor Day with lift access from Christie Peak Express and the Steamboat Gondola. Beginning September 8 through the fall as conditions allow, the Bike Park will operate Friday through Sunday with lift service from the Steamboat Gondola. Bike Park hours will be 10 a.m. to 4 p.m. There will be periodic trail closures due to construction impacts and trail conditions. Summer lift and trail statuses can be found on the Steamboat Resort mobile app and website. A season pass or daily access ticket are required for accessing the Bike Park. Daily tickets can be purchased online in advance or at the ticket office. Season passes are available for advance purchase online. Bike Park Season Pass options are available for 23/24 Ikon Pass holders and non-pass holders. An uphill only season pass (Pedal Pass) is also available for purchase.  
Steamboat Sports Sheraton Bike Shop will have bike gear as well as premium downhill, cross country, and e-bike rentals for use in town and on-mountain trails. All-inclusive rental packages will be available and include bike rental, bike lift access, and protective gear. The Steamboat Sports Bike Shop will operate daily June 16 through Labor Day. Professional bike guides will be available to assist in navigating the Bike Park and offer tips on how to best ride the trails. Private lessons, clinics and packages will be offered. Lessons and guide services are available during normal days of Bike Park operations. Reservations are recommended but on-site bookings are also available on a first come, first served basis. Visit the Steamboat website for more information on Bike Park ticketing, season passes, and pricing.  
Scenic Gondola and Chairlift Rides, Guided Hiking Tours and Trails  
The Steamboat Gondola and Christie Peak Express lift will be open for scenic rides, Bike Park lift access and hiking trail access this summer. The Gondola will operate on weekends, including Memorial Day, from May 26 to June 11, daily from June 16 through Labor Day, and weekends from September 8 through October 1. Christie Peak Express lift will operate daily from June 16 to September 4. The Steamboat Gondola and Christie Peak Express lift will be open from 10 a.m. to 4 p.m. 
Scenic Ride passes are available for adults and children. Scenic Gondola and chairlift access is available for 23/24 Ikon Pass, Ikon Base Pass and Ikon Base Pass Plus holders. Sunset Happy Hour access is included with season passes. Daily tickets are available for purchase day of at the Steamboat Ticket Office and in advance online. Daily tickets do not include Sunset Happy Hour access. Guided on-mountain hikes will be offered Fridays and Saturdays starting June 16 through September 17 and include lunch at the Oasis Sundeck. Tour pricing includes lunch, lift access and a guide. Spots can be reserved in advance by calling (800) 922-2722 or purchased on-site. Hiking on-mountain is available for free on the Thunderhead hiking trail, a 3.8-mile United States Forest Service trail between the Thunderhead Lodge and the base of the mountain.  
Ticketing 
The Steamboat Ticket Office, located in Steamboat Sheraton Sports, will be open on weekends including Memorial Day from May 26 to June 11, daily from June 16 through Labor Day, and weekends through October 1. Ticketing for Sunset Happy Hour is located at the Steamboat Gondola loading area.  
Base Area Activities and Events 
Skeeter's Rink will be covered with artificial turf and yard games will be available for the public to enjoy throughout the summer. Movies on the Mountain will be offered on the Steamboat Stage in Steamboat Square throughout the summer. Event schedules and programming will be available on the Steamboat Resort website.   
Happy Camp 
Happy Camp will operate weekdays (Monday through Friday) starting June 5 through August 18 for ages 5 through 14. Included in the program are various field trips and outdoor activities. Visit the steamboat.com website for more information and booking. 
Sunset Happy Hour  
Sunset Happy Hours will take place most Thursdays and Sundays, unless there is a private event, between June 18 and September 3. Sunset Happy Hour access is included with season passes that have summer 2023 access. Daily tickets do not include Sunset Happy Hour access. Pricing, a full schedule of Sunset Happy Hour dates and live music schedule will be available on the website. 
Dining 
On-mountain dining will be available at The Oasis Sundeck on weekends, including Memorial Day, from May 26 through June 11 at Thunderhead Lodge. The sundeck will be open daily starting June 16 through September 4. In the base area, dining will include The Range Food and Drink Hall and the T&T Grill. Exact opening date of The Range and operating hours vary throughout the summer. The Haymaker Patio grill will operate daily for breakfast, lunch, dinner and cart service from May 18 through October 1. Summer dining options at The Steamboat Grand Hotel include the Cabin, Grand Market, and Poolside Bistro. Visit the Steamboat Mobile app for updated hours and operations.   
Parking and Resort Access 
This summer, the resort will offer free and paid parking. The upper Knoll lot will be open and free for parking. Paid parking will be available in the Gondola Square parking structure and Steamboat Grand structure. Overnight vehicle and oversize RV parking will be available for nightly rate. The lower Knoll and Meadows lots will be closed for the summer in support of ongoing Full Steam Ahead projects. For base area navigation, interactive maps, step-by-step directions and more, download the Steamboat App. 
As construction continues throughout the summer season, trails and activities may be impacted. For the most up-to-date information regarding closures and construction impacts visit steamboat.com/fullsteamahead.