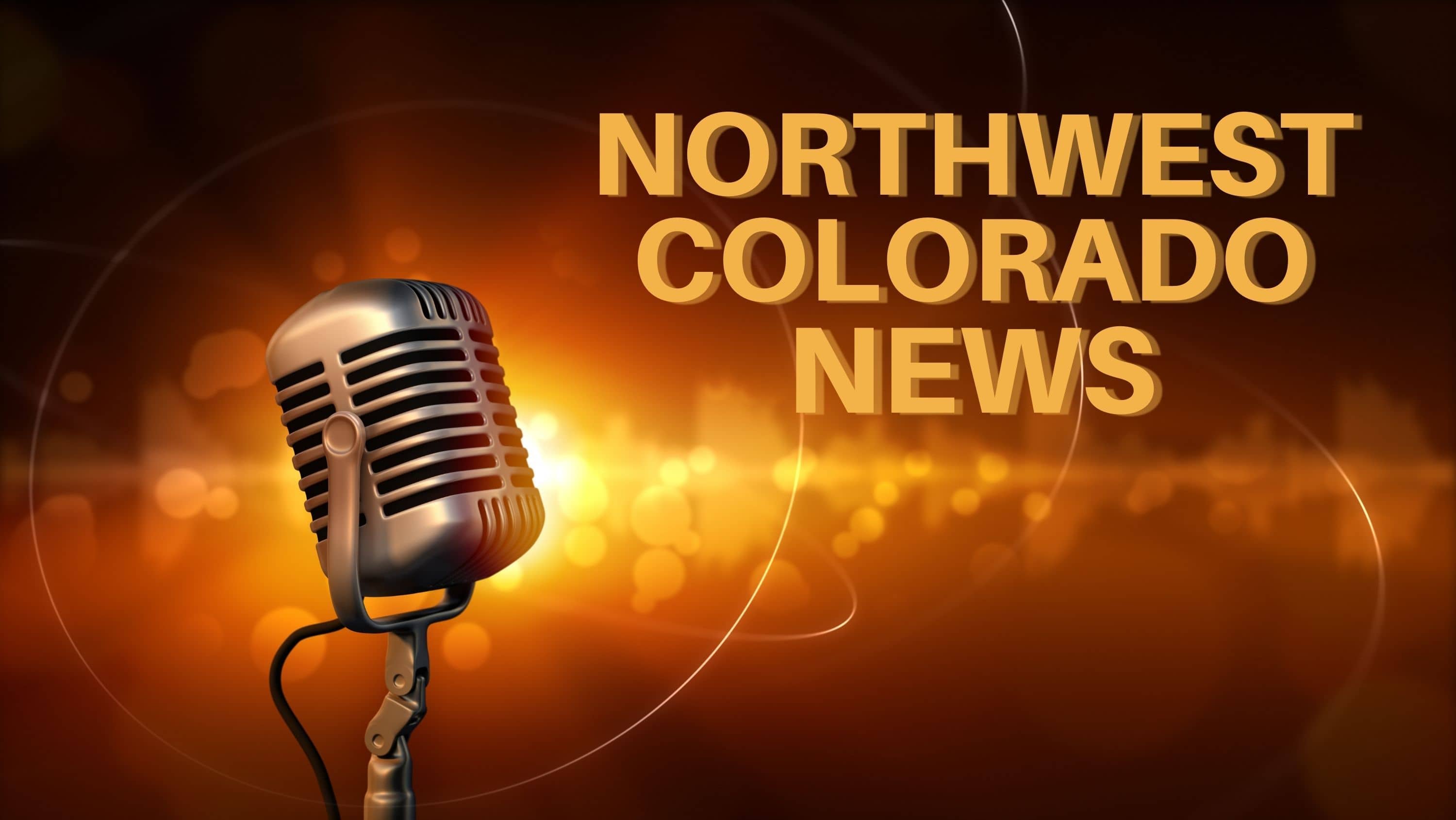 By Shannon Lukens.
Polling locations for Routt and Moffat County are open today, and both are open on Saturday.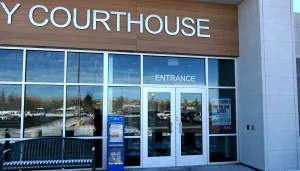 In Moffat County, the Polling Center is in the new courthouse. Moffat County has a new ballot tracking system. It's called Ballot Trax, as in TRAX. Here's election coordinator Sarah Colding.
"This is new for Moffat County. We're excited that we have this system. We can tell you where your ballot is, when it was mailed out, which post office it is at. It's a super cool system."
Routt County also uses Ballot Trax.
Election information is also on county websites. Here's Routt County Clerk and Recorder Jenny Thomas.
"All counties will have election information on their website. We have it here on the Routt County website. Just navigate to the elections page."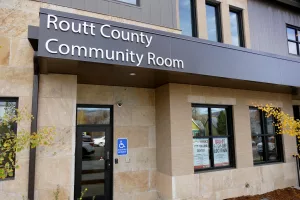 In Routt County, the Polling Center is in the new Health and Human Services building at 6th and Oak. Hours Saturday for both counties are 10 a.m. to 2 p.m.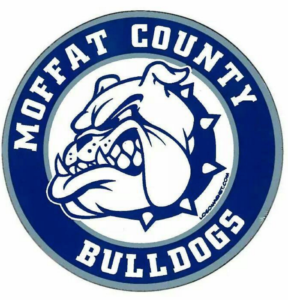 The Moffat County Bulldogs are in the football state playoffs Saturday. Here's KRAI News Intern Olivia Cordova.
The Moffat County Bulldogs have a big playoff game this Saturday at 1 p.m. in the 2A Football playoffs. They are #12 in the playoffs, and they'll be playing #5 Elizabeth. Here's Head Coach Nicholas Colgate.
"Our strategy to win this game is to go out and perform the best we can. They're ready and excited to do it. I can't wait to see what they put out on the field. I know they're going to be hustling around. I know they're going to be making great plays and great tackles. Hopefully with that attitude and effort we can overcome whatever comes our way."
The game is away and you can listen on KRAI. I'm KRAI News Intern Olivia Cordova reporting.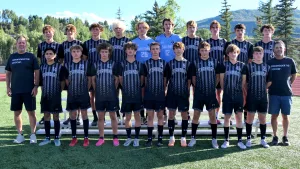 The Steamboat Sailors Soccer Team will battle it out with Centaurus at noon Saturday in the quarterfinals of the CHSAA State Playoffs. Listen on KTYV 105.7 Sports on FM.
The Border War rivalry between the University of Wyoming and Colorado State is at 8 p.m. Friday night. If you are going, be aware that both Colorado State Patrol and Wyoming Highway Patrol send word that they'll be out in force, looking for drunk drivers.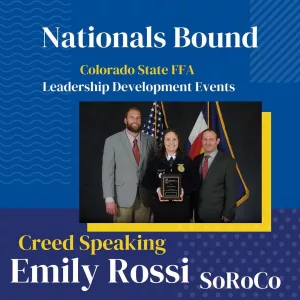 At the National FFA Convention in Indianapolis, Emily Rossi of Soroco High School finished second in the nation in Creed Speaking.  The FFA Creed outlines the organizations values and beliefs regarding the industry of agriculture, FFA membership, and citizenship and patriotism. Emily Rossi is the first person from Soroco, and from Colorado to ever make it so far in the national competition, where only one person from each state is sent to compete.
Video of Emily at the FFA Convention 
Thank you top Soroco FFA Reporter Ruby Hill for sharing this video with us.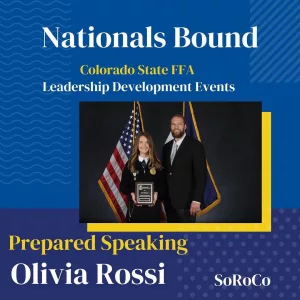 Olivia Rossi, Emily's cousin, finished in the Silver Category for Public Speaking.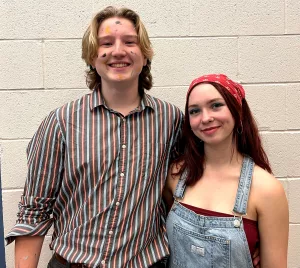 Courtesy photo
Two stars from the SSHS Drama Troupe have been honored to perform in the opening number of this year's Colorado State Thespian Conference. They are junior Ruby Frank and Senior Rowan Tolstedt. The conference is in Denver Dec. 7-9 and about 40 SSHS students will attend. It's the 59th year for the annual high school and middle school theatre conference.
SSHS Theater Director Deena Selko writes, "We are so excited for them, and hope you can share our joy and pride with the community."
The Moffat County Affiliated Junior College District Board of Control has two vacancies. Submit a letter of interest to CNCC in Craig.
From CNCC: NOTICE OF VACANCY
The Moffat County Affiliated Junior College District Board of Control has two (2) vacancies on their Board of Directors. Any individual interested in serving on the Moffat County Affiliated Junior College District Board needs to submit a written letter of interest to the Moffat County Affiliated Junior College District at 2801 W 9th St. Craig, CO 81625 or via email to Jesse LaRose at jesse.larose@cncc.edu by November 22, 2023 and attend the next regular board meeting on November 27, 2023 at 4:30 p.m. For further information, contact Jesse LaRose at 970-824-1149.
More fun on Saturday…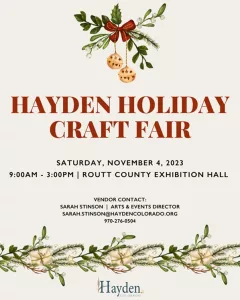 The Hayden Holiday Craft Fair is from 9 a.m. to 3 p.m. This year it's at the Routt County Exhibition Hall at the Routt County Fairgrounds in Hayden.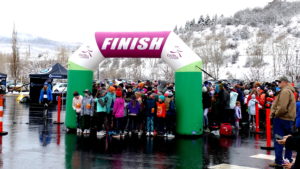 Girls on the Run of Western Colorado hosts a 5K on Saturday, Nov. 4. It starts at 11 a.m. from Strawberry Park Elementary. All are invited, and proceeds will benefit Girls on the Run. They expect about 500 to run, mostly girls in 3rd through 8th grade. You can still sign up on the day of the race at www.GOTRWesternColorado.org
Thank you to Program Sponsor Alpine Bank and Champion Sponsor Steamboat Orthopaedic Spine Institute.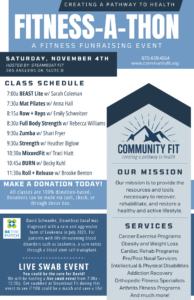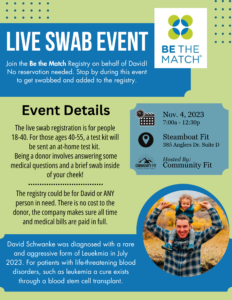 Steamboat Fit is hosting a Fitness-A-Thon to support their Community Fit program, which is a nonprofit that helps with recovery and rehabilitation. Fitness classes are from 7 a.m. to 11:30 a.m. and they are donation based.
There is also a Live Swab that day to try to find a donor for David Schwanke who has been diagnosed with a rare and aggressive form of leukemia.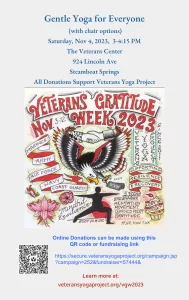 Saturday, Nov. 4, is "Gentle Yoga for Everyone" (with chair options), at the Veterans Center, 924 Lincoln Ave. in Steamboat Springs. It's from 3-4:15 p.m. All donations support the Veterans Yoga Project. The event is part of Veterans Gratitude Week, Nov. 3-12, 2023.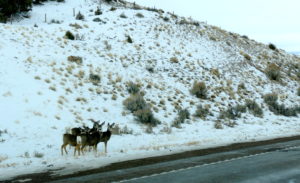 Daylight Savings Time is this Sunday so set your clocks back an hour. And Colorado Parks and Wildlife reminds everyone to be extra careful of wildlife on the road. Drive with caution and slow down at night.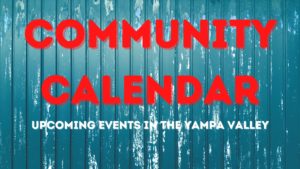 Check out what's happening in the Yampa Valley on the Community Calendar on our website.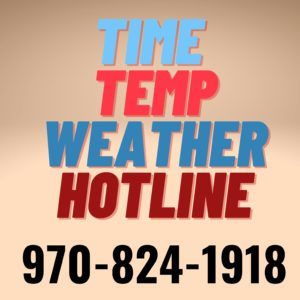 For the KRAI Time, Temp, and Weather Hotline, call 970-824-1918.