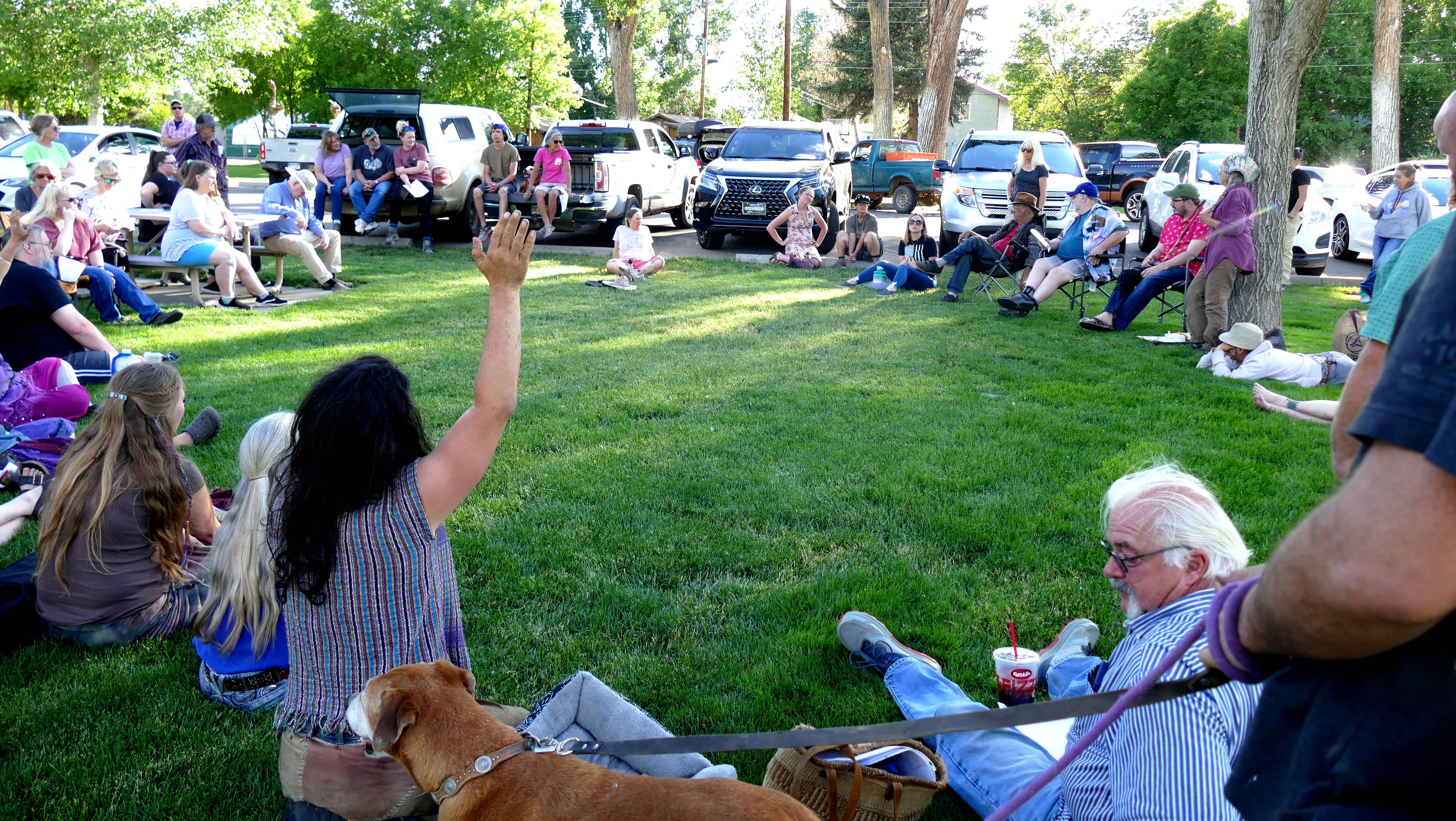 By Shannon Lukens.
Rainbow Gatherers met residents of Craig and Northwest Colorado, at City Park in Craig Wednesday night. About 60 people were there asking questions, giving opinions, and hearing more about the gathering up in northwest Routt County, on National Forest land.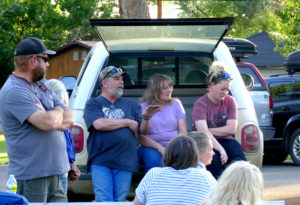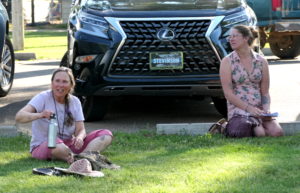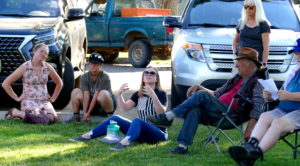 Some of the Craig residents were very concerned and told the Rainbow Gatherers why they are concerned. Comments included safety of the kids in town, water usage up at the site, and the impact to wildlife especially the sandhill cranes, elk, deer, and cattle. Residents were also concerned about those at the gathering, which is estimated to be about 10,000, ruining the land and leaving a footprint. They also asked about panhandling in the area.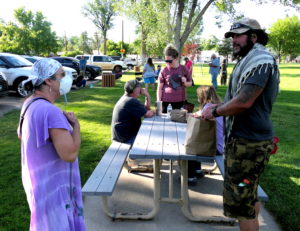 Another Craig resident brought some supplies to share with the Rainbow group members in attendance.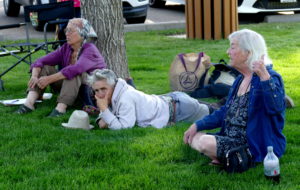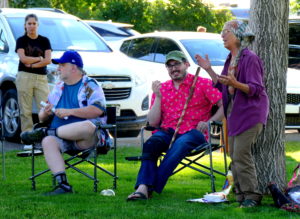 Rainbow gatherers responded to the group. First, they said they want to have a good relationship with the local community. They have been gathering for many decades. They said that people in the Rainbow group will come into the communities in the area and spend lots of money. They are conscious of theft. In the past, a woman with the Rainbow group named Carla said store owners have made requests for reimbursements, if they felt there was theft. She said she will try to set that up, if that is the case. Carla said she has been attending since 1979. She said they are proud of what they do. She would like to see a meeting at the end of the Rainbow Gathering, like they are doing at the beginning, to hear from store owners in the community.
As for panhandling, they have asked the Rainbow participants not to panhandle or "jug" within 50 miles of the event. Jugging is asking for free gas at a gas station. Carla also said to "just say no" if someone is panhandling. Carla also said folks are welcome to come up to the gathering to "check us out."
Carla said they are laying "miles and miles and miles and miles" of water line to have fresh clean water. She said the purpose of the gathering is to practice how people can live in world peace. But mistakes will be made. But they are still practicing.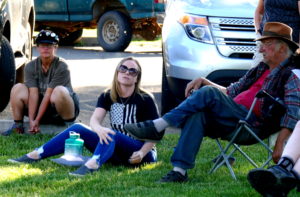 A Craig parent expressed concern about the kids in the Craig community. Adam from the Rainbow Gathering said he is a kids camp attendant at the gathering. He says there are several of them who watch the kids and they have never lost a child. He says they have an extensive radio communication system at the site.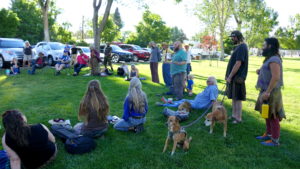 Adam also spoke about how those at the gathering are aware of being "consent positive." They also avoid sexual predators. They have eyes on everyone, calling it, "Sober Eyes in the Woods."
Adam also explained how they run the campfires at the gathering.
Adam said the kitchens at the camp are prepared to cook on propane if fire restrictions go into effect. He says the last time that happened was in 1998 in Arizona. Adam said that he has attended for 12 years, but first came 35 yeas ago, in utero with his mother.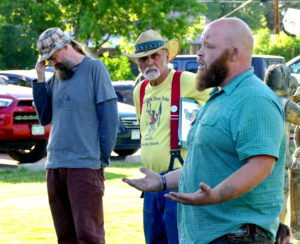 James is a tow truck driver from Arizona. He is at the gathering with his family. He addressed any environmental concerns, saying they will clean up after themselves.
They were adamant that the Rainbow Gathering has no one leader. No one is elected or appointed. There are "vocalizers," who help with certain specialties.
They said that right now, it is a Seed Camp. They are just getting everything ready up there. The main event is July 1-7.
They are cooperating with law enforcement.
They have dispersed camping, which is at least 100 feet from marshes and streams.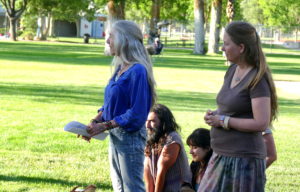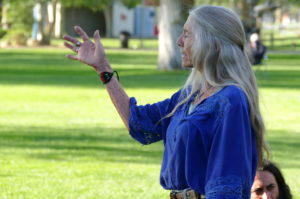 They said that they are getting older. A woman named Feather said she was 23 years old when she came to the first Rainbow Gathering in 1972. She was asked why she always attends.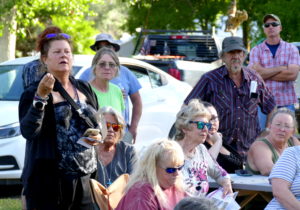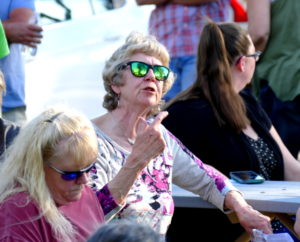 Members of the Colorado Crane Conservation Coalition spoke up. Abbie thanked everyone and said she believes they have good intentions. But then she and Nancy Merrill both stressed that the Greater Sandhill Cranes are hatching right now in that area. They are concerned about kids and dogs upsetting the crane nests and the new chicks. Merrill said, "Please look out for the wildlife, and please make the Rainbow Community aware of the Sandhill Cranes."
Another Rainbow member said they will clean the site when they leave. He said, "We do have an impact but the impact is short term. In a year or two, you won't be able to tell we were there."
He added, "The focus of the gathering is building up to the 4th of July and the prayer circle. Then it's like a bathtub draining and everyone starts to leave."
Douglas is from New Orleans. He has been coming to the Rainbow Gatherings for 28-30 years.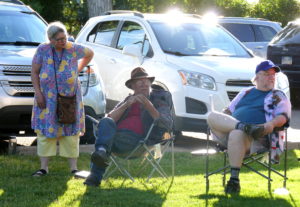 Gary said the US Forest Service has documented 50 years of history and clean-up reports with the gathering. He says they have had minimal impact on wildlife, "and this is from the people who hate us." He added that, "The clean-up is something they can't use against us."
One woman came up to the two reporters in attendance and said, "Cameras?" "Yes," we replied. "We are media." Cameras are not welcomed at the gathering site. She walked away but came back later and said to me, "You know we are just going to do whatever we want."