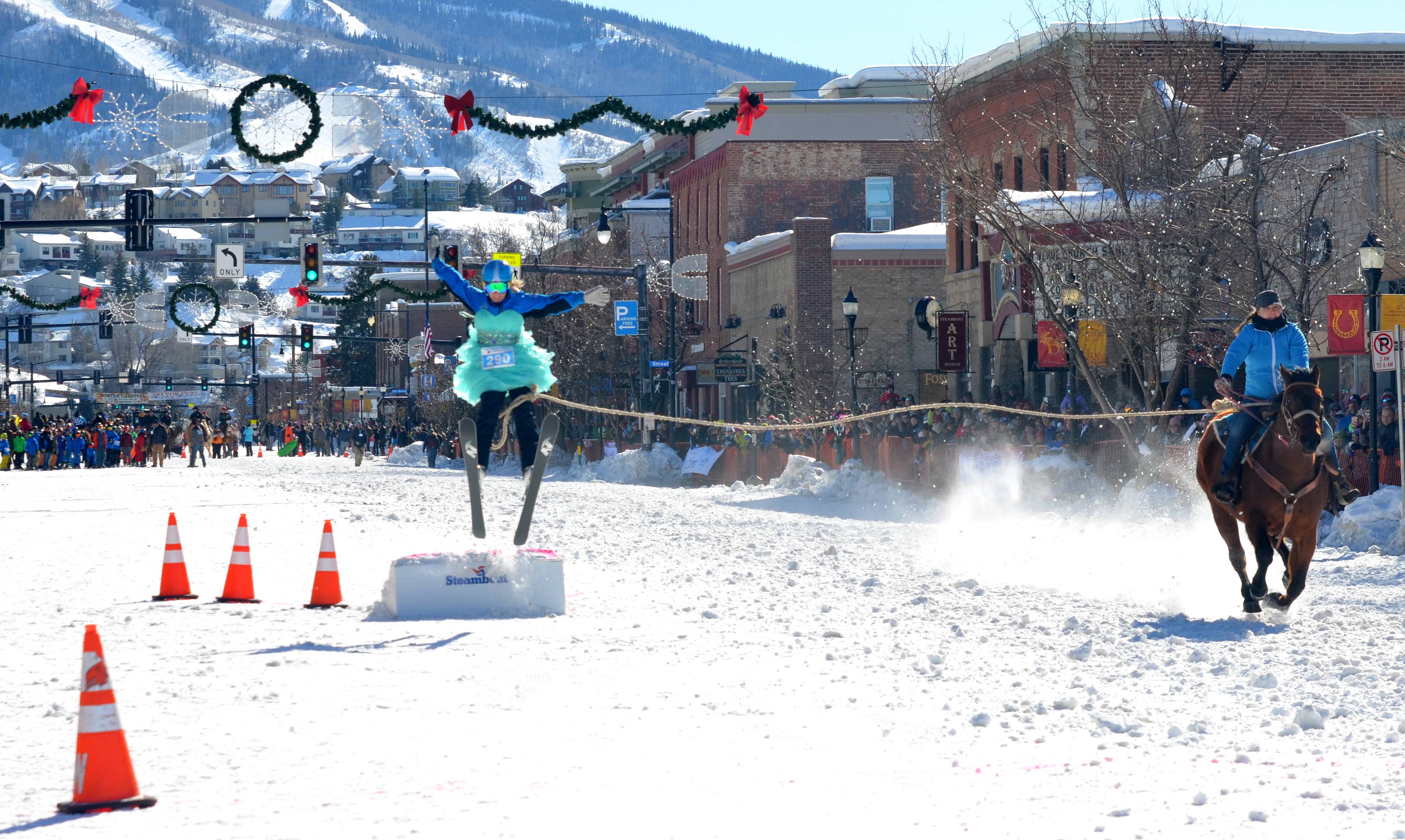 By Shannon Lukens.
2023 Steamboat Springs Winter Carnival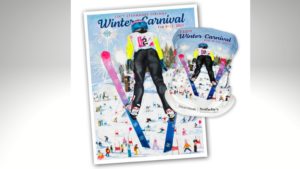 Feb. 8-12, 2023
A $10 Winter Carnival button or a $15 buff are required to participate and for entry/spectating at all events. (Some events also require tickets.) Buffs are at businesses around town.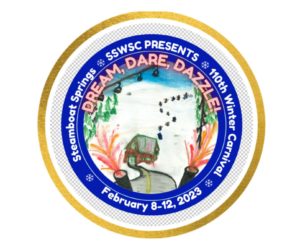 This year's button artwork is by 14-year-old Steamboat Mountain School student Davis Brosterhous. Buttons are at the following businesses:
Ace at the Curve
Alpine Bank
Allen's Clothing
Arctic Liquors
Christy Sports
City Market
City of Steamboat Springs
FM Light & Sons
Info Center at Steamboat Resort Corp
Lyons Drug
Off the Beaten Path
Old Town Hotsprings
One Steamboat Place
Paws N Claws
Safeway
Ski Haus
Steamboat Art Museum
Steamboat Chamber of Commerce Steamboat Grand-Concierge
Steamboat Resorts Sotheby's Wildhorse Sotheby's Town Sotheby's Mountain
UCHealth-Yampa Valley Medical Center
Wild Plum
Yampa Valley Bank
Your commemorative button/buff will give you free skiing access to Howelsen Hill Feb. 8-12.  You must obtain a physical lift ticket at the Howelsen Hill ticket office. steamboatsprings.net/ski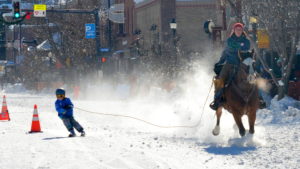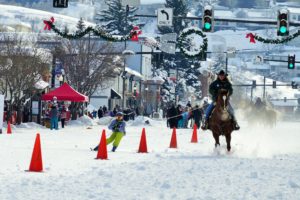 STREET EVENTS
Register here for the Winter Carnival Street Events starting at 10 a.m. on Friday, Feb. 3.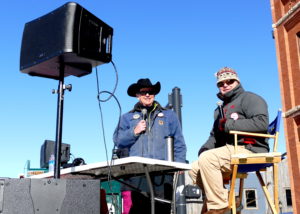 Join Steamboat Radio's Brian Harvey and Tom Whiddon as they announce the street events each year.
SATURDAY, February 11
8:15 a.m. 100-meter Nordic Sprint. Register with the Nordic Council for this event.
9-9:35 a.m. – SkiJoring (6-9 years)
9:35-10:10 a.m. – SkiJoring (10-14 years)
10:10-10:45 a.m. – Street Slalom (10-14 years)
10:45-10:55 a.m. – 3-legged Race, 50yd (5-8 years)
10:55-11:05 a.m. – 3-legged Race, 75yd (9-11 years)
11:05-11:15 a.m. – 25yd Dash (3-5 years)
11:15-11:25 a.m. – 50yd Dash (6-8 years)
11:25-11:35 a.m. – 75yd Dash (9-11 years)
11:35-12:05 p.m. – Donkey Jump (6-9 years)
12:05-12:10 p.m. – Shovel Race (18+)
SUNDAY, February 12
9-9:35 a.m. – Street Slalom (6-9 years)
9:35-9:45 a.m. – 25yd Dog Dash (0-5 years)
9:45-9:55 a.m. – 25yd Dad Dash (0-5 years)
9:55-10:30 a.m. – Donkey Jump (10-14 years)
10:30-10:35 a.m. – Shovel Race (18+)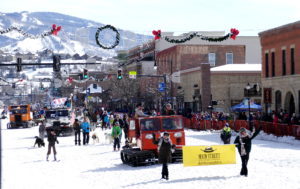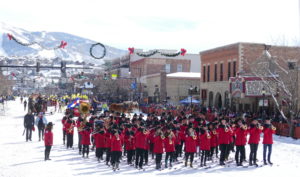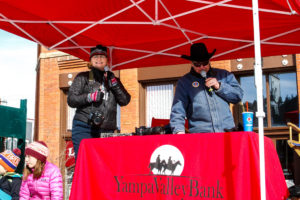 Photo courtesy George Fargo
11 a.m. – Diamond Hitch Parade begins. Join Tom Whiddon and Steamboat Radio's Shannon Lukens as they announce the parade. A diamond hitch consists of at least four skiers pulled by a rope. REGISTER HERE
*Events that require advance registration. Start Times are approximate.
STREET EVENT RULES
Contestants must have read through the waiver statement and signed the release.
Pre-registration is mandatory for all horse events.
Contestants must wear goggles and a helmet (cycling or ski racing helmet is sufficient)
Contestants may enter only one (1) Horse Event per day.
Contestants may sign up only for events for which they are the designated age.
Contestants must have a Winter Carnival Button – available at the Winter Sports Club Offices, participating downtown merchants, and the Chamber Visitor Center
Shovel Race contestants must provide their own shovel.
Shovel Race contestants must wear a protective helmet.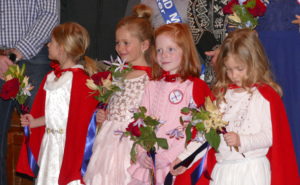 Wednesday, February 8
Celebrate Winter Carnival with local Olympian Ben Berend and the Tread of Pioneers Museum for an exploration of Steamboat's unmatched Olympic heritage, and Berend's personal athletic journey to Olympic excellence. Learn about the history of Carl Howelsen, ski jumping, Howelsen Hill, and the Steamboat Springs Winter Sports Club, and find out why Steamboat is home to more Olympic athletes than any place in North America. Meet outside of the front entrance of Howelsen Hill Lodge at noon on Wednesday, February 8. It's free but donations to the museum are appreciated. No reservations required. Call 970.879.2214 for questions or treadofpioneers.org
5:30 p.m. Opening Ceremonies in Olympian Hall at Howelsen Hill. This is a celebration honoring the Winter Carnival Queen, her Court of Attendants, Little Princesses, and the Grand Marshals.
5-8 p.m. is Nordic Excavating Hitchens Brothers Wednesday Night Jump night. This is for kids ages 8-13. Skis only; no snowboards. Register at SSWSC.org
Thursday, Feb. 9
2-6 p.m. Air Bag Jam Session at Howelsen Hill. Closed to the public but you can watch the athletes and take pictures.
4 p.m. Snow Sculpture Viewing on LIncoln Ave. Vote on your favorite snow sculptures @Steamboat Creates on Facebook and Instagram. Voting closes Sunday night.
5 p.m. Cross Country Obstacle Race at Howelsen Hill for ages 5-12.
5:30-8:30 p.m. S'More Family Fun Party presented by Off the Beaten Path and Book trails, in the Howelsen HIll Party Tent, downtown off of 5th Street. Get tickets in advance through WinterCarnivalSteamboat.com.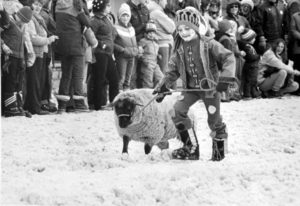 5:30 p.m. Join the Tread of Pioneers Museum in Olympian Hall at Howelsen Hill for a special panel with longtime locals, sharing their favorite memories of Winter Carnival through the decades. It's free. Email CBannister@TreadofPioneers.org for more information.
5-6 p.m. Powdertools Mid-Winter Terrain Park Jam Session for ages 14 and under at Howelsen Hill. Open to skiers and snowboarders. Pre-registration is required.
5-6:30 p.m. Family Duals at Howelsen Hill.
5:30-7 p.m. Ski Jumping Jamboree for ages 4-11 at Howelsen Hill.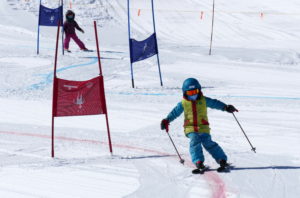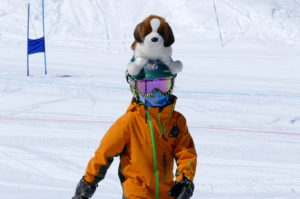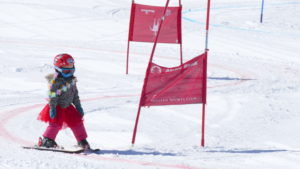 Friday, February 10
10 a.m. to 2 p.m.  CHRISTY SPORTS SODA POP SLALOM for ages 11 and under at Howelsen Hill. Pre-registration is required.
4:30-6 p.m. Nordic Jumping Exhibition off the 20-meter, 30-meter, 45-meter, 75-meter, and 100-meter jumps at Howelsen Hill.
5-5:30 p.m. Ski Ballet at Ponyland at Howelsen Hill.
6-7 p.m. Amateur Ski Jumping under the lights. Register in the Fireplace room at Howelsen Hill Lodge.
6-8 p.m. Johnsie Memorial Dual Slalom Bicycle Race. Register between 5-5:30 p.m. in the Fireplace Room at Howelsen Hill Lodge. More info is at Wheels Bike Shop.
7-11 p.m. Tito's Mountain Soiree for ages 21+ in the tent at Vanatta Field at Howelsen. Celebrate 109th Winter Carnival with an 80s themed dance party, with food, drive, and live music by the 6 Million Dollar Band. Tickets must be purchased in advance. SOLD OUT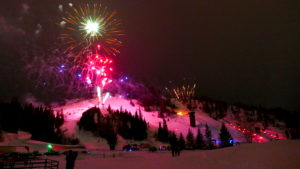 Saturday, February 11 
8 a.m. 100-meter Nordic Sprint down Lincoln Ave. Check in at 7:30 a.m. at 7th Street
9 am. To noon are the Street Events, presented by Yampa Valley Bank. Watch kids on skis and snowboards being pulled by horses down snow-covered Lincoln Ave.
1 p.m. Pro Alpine Ski Jumping Qualifications at Howelsen Hill.
6:45-7:15 p.m. SSWSC Athlete Exhibition at Howelsen Hill
7:30 p.m. Night Extravaganza at Howelsen Hill. Presented by Yampa Valley Bank. The light display with local athletes. The Lighted Man skis down shooting fireworks from his pyrotechnic suit. Ski Jumpers and FIREWORKS. Wear your Winter Carnival button. Parking is limited and congested close to Howelsen Hill. Consider taking a bus or walking to the show. Parking will be available at the rodeo grounds and throughout downtown. It's recommended that you bring a headlamp, flashlight and glow sticks to be visible by motorists.
Sunday, February 12 
10 a.m.- 4 p.m. SUNDAY FREE SKI DAY AT HOWELSEN HILL

Provided by the City of Steamboat Springs at Howelsen Hill Ski Area, 845 Howelsen Parkway

9 am. To noon are the Street Events, presented by Yampa Valley Bank. Watch kids on skis and snowboards being pulled by horses down snow-covered Lincoln Ave.
11 a.m. is the Diamond Hitch Parade (right after the street events). A diamond hitch consists of at least four skiers pulled by a rope. Have fun and don't miss this. Steamboat Radio's Shannon Lukens will be announcing the parade.
1-2 p.m. Pro Alpine Ski Jumping Finals at Howelsen Hill.
It is recommended that you leave pets at home for crowded events like the parade, street events and Night Extravaganza show.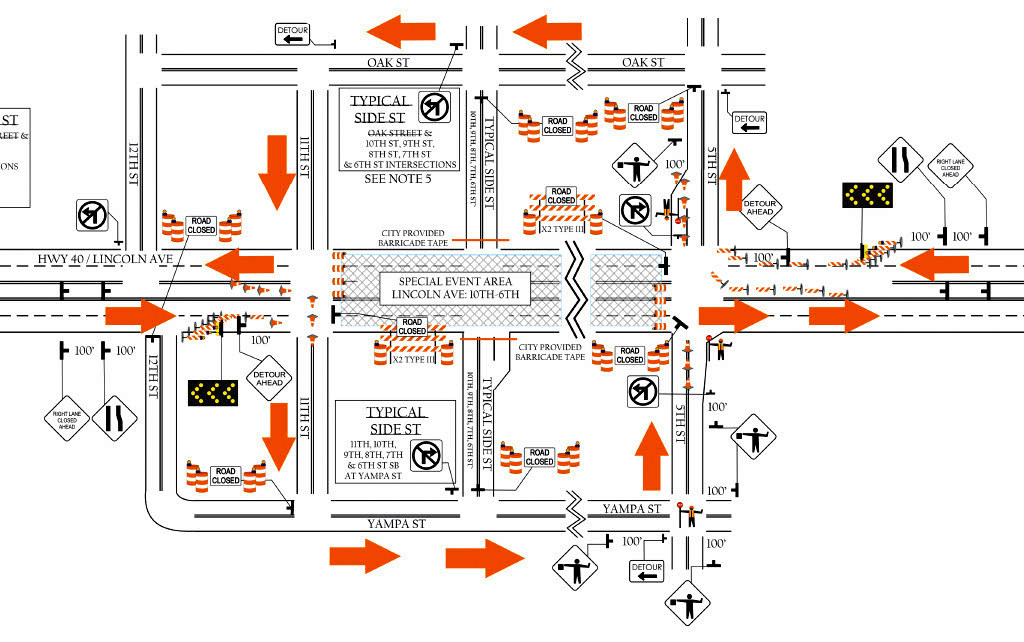 DETOUR PLANS
New Detour Plan Enacted For Winter Carnival Street Events  —  Circular Route Enhances Emergency Access & Improves Traffic Flow
STEAMBOAT SPRINGS, COLORADO–January 31, 2023-The 110th Steamboat Springs Winter Carnival rides into the Yampa Valley between February 8-12 and the city is unveiling a new detour plan during the street events to better serve US40 thru-traffic, enhance emergency access, and improve traffic circulation over the festive weekend.
"As we know, change doesn't come easy for Steamboat Springs, but we believe this plan better serves US40 thru-traffic, improves emergency routes and will be more efficient for the community," commented City Manager Gary Suiter.
Instead of utilizing Oak Street solely, the new route will use a circular configuration that sees US40 eastbound traffic diverted onto Yampa Street and US40 westbound traffic onto Oak Street. The city has hired a traffic control company out of Grand Junction to assist in running the detour including signage, barriers, and flaggers at some key intersections.
"The new route allows for emergency vehicles to travel unobstructive across town and for large semi-trucks to more easily navigate the detour turns at 5th and 11th Streets," said Steamboat Springs Police Dept (SSPD) Chief Mark Beckett.
Starting early Saturday morning, westbound traffic will turn right on 5th St, then left onto Oak St before continuing down to 11th St and US40. In addition, for easier semi-truck travel, there will be no parking on the north side of Oak St between 5th to 6th Streets, 10th to 11th Streets and west side of 11th to the alley.
Eastbound traffic will turn right at 11th St, then left onto Yampa St. Traffic will travel the six-blocks down Yampa to 5th St before returning to Lincoln. No parking is available on the south side of Yampa between 10th to 11th as well as the west side of 11th between the alley and Yampa.
Individuals looking to access neighborhoods north of downtown should utilize 3rd, 4th, and 12th Streets. Residential side streets approaching Oak between 5th and 11th will not be permitted to turn left on Oak but will need to follow the circular route. The city is asking lodging shuttles to use the bank parking lot at 3rd & Oak for drop off and pick up during the street events closure. Public parking at the high school is also an option.
The 5th Street Bridge will be closed to northbound traffic during the street events similar to the night show. All traffic accessing Howelsen Hill, the Ice Arena or Brooklyn neighborhood should use River Road both days.
The new detour plan goes into effect starting Saturday, Feb 11 at 2am and runs through the conclusion of the street events. The following morning, Sunday, Feb 12, the closure/detour begins at 4 a.m. and runs through approximately 2pm. Traffic flaggers will be at 5th Street starting at 6am both days. At the conclusion of the street events, crews will plow the snow to the parking lanes and reopen Lincoln Ave.
During the closure, temporary bus stops for westbound Steamboat Springs Transit (SST) routes will be on Oak at 5th, 7th, & 9th. Eastbound SST routes will use the same cross streets but with temporary stops on Yampa St. Buses will return to normal operations when Lincoln Avenue reopens.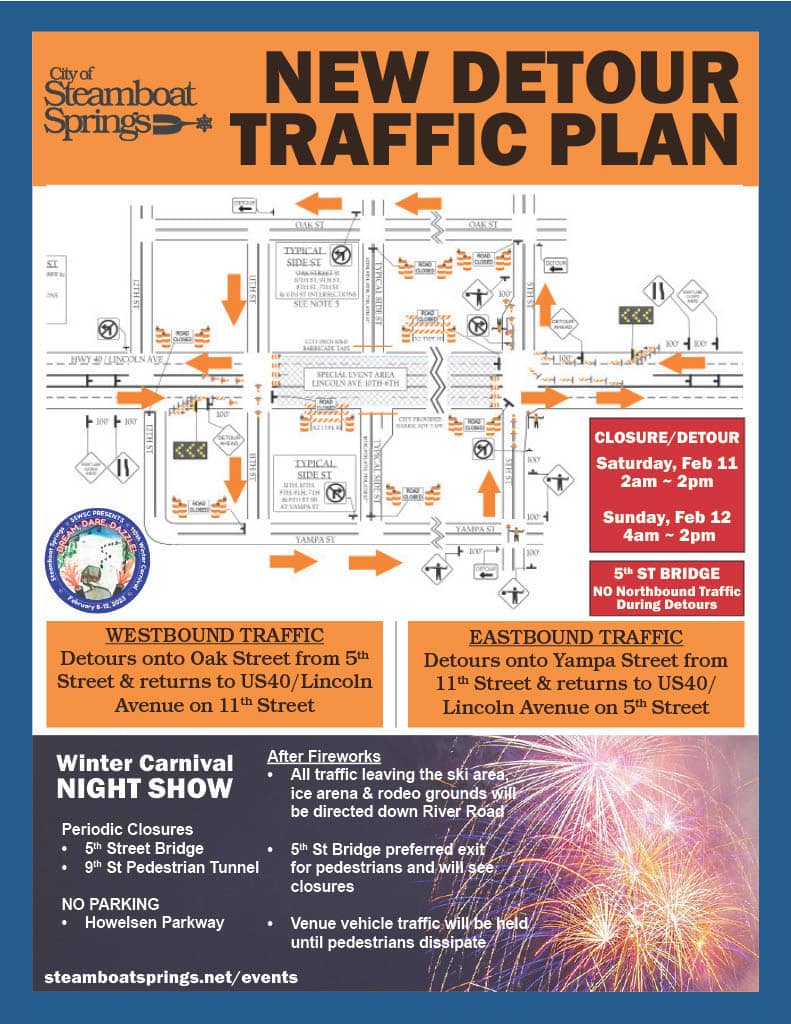 In addition, the city will provide free skiing at Howelsen Hill, enact closures to trails on Emerald Mountain, provide additional SST event service and a specific night extravaganza show traffic plan.
SKI FREE at Howelsen Hill – February 8-12, 2023
The ski area will be open normal operating hours during Winter Carnival. Your Winter Carnival button/buff provides access to a free lift ticket to ski at Howelsen Hill during Winter Carnival from February 8-12. Lift ticket must be obtained from the Ticket Office prior to accessing the slopes. One ticket per button/buff per day.
Emerald Mountain – February 11, 2023
All trails that access Emerald Mountain including Blackmer Trail will be closed for public safety from 4pm until 9pm on Saturday, Feb. 11, as crews set up and launch fireworks for the Night Extravaganza. Please respect all closures and understand that additional trail closures may be required prior to Saturday, Feb. 11.
SST Service – February 11 & 12, 2023
SST will operate additional service during the street events and Night Extravaganza on Saturday, February 11 and during the day on Sunday, February 12. Extra unscheduled buses will run on Saturday as well as that night to transport people to and from the evening festivities.
Howelsen Hill Traffic & Parking – Night Extravaganza, February 11
Howelsen Hill base area parking typically fills to capacity early for the Night Extravaganza and overflow parking will be available at the rodeo grounds/ice arena as space permits. ADA parking is limited at the Howelsen Lodge and some ADA spaces will be set up at the tennis courts. Parking is not permitted along Howelsen Parkway or River Road and illegally parked vehicles will be towed.
Once the Howelsen parking lots are full, Howelsen Parkway will be CLOSED to incoming traffic except for ADA access and emergency vehicles. At that time, traffic may be diverted into the Rodeo Arena featuring a drop-off area as well as additional parking. Vehicles will exit the rodeo grounds via the Ice Arena. All traffic crossing the 5th Street Bridge toward Howelsen Hill will be required to take River Road instead of returning to downtown.
After the fireworks, all vehicles departing Howelsen Hill will be directed down River Road to where it intersects with Mt. Werner Road. The 5th Street Bridge will have intermittent closures and Howelsen Parkway will be closed westbound between the Ice Arena and the 5th Street Bridge. There will be no left turns permitted out of the Howelsen Ice Arena parking lot. Motorists are asked to follow traffic directions and signals, yield to city buses and refrain from blocking intersections.
Due to the high volume of spectators, please be patient, alert and follow police and traffic control for directions. Designated routes, which may not be your preferred way home, will be used to aid in maintaining egress from the venue during this popular event.
Additional parking is available throughout the downtown area during the night show, at the Steamboat Springs High School and the Stockbridge Transit Center. Please respect residential access and do not block driveways. It is highly recommended that people walk, take the free SST bus, or utilize drop off/pick up locations at the west end of Yampa and Oak Streets to access the venue.
"The city would like to thank everyone in advance for their cooperation as the new detour plan is implemented," continued Suiter. "On behalf of everyone at the city, we wish you a safe and wonderful winter carnival celebration."