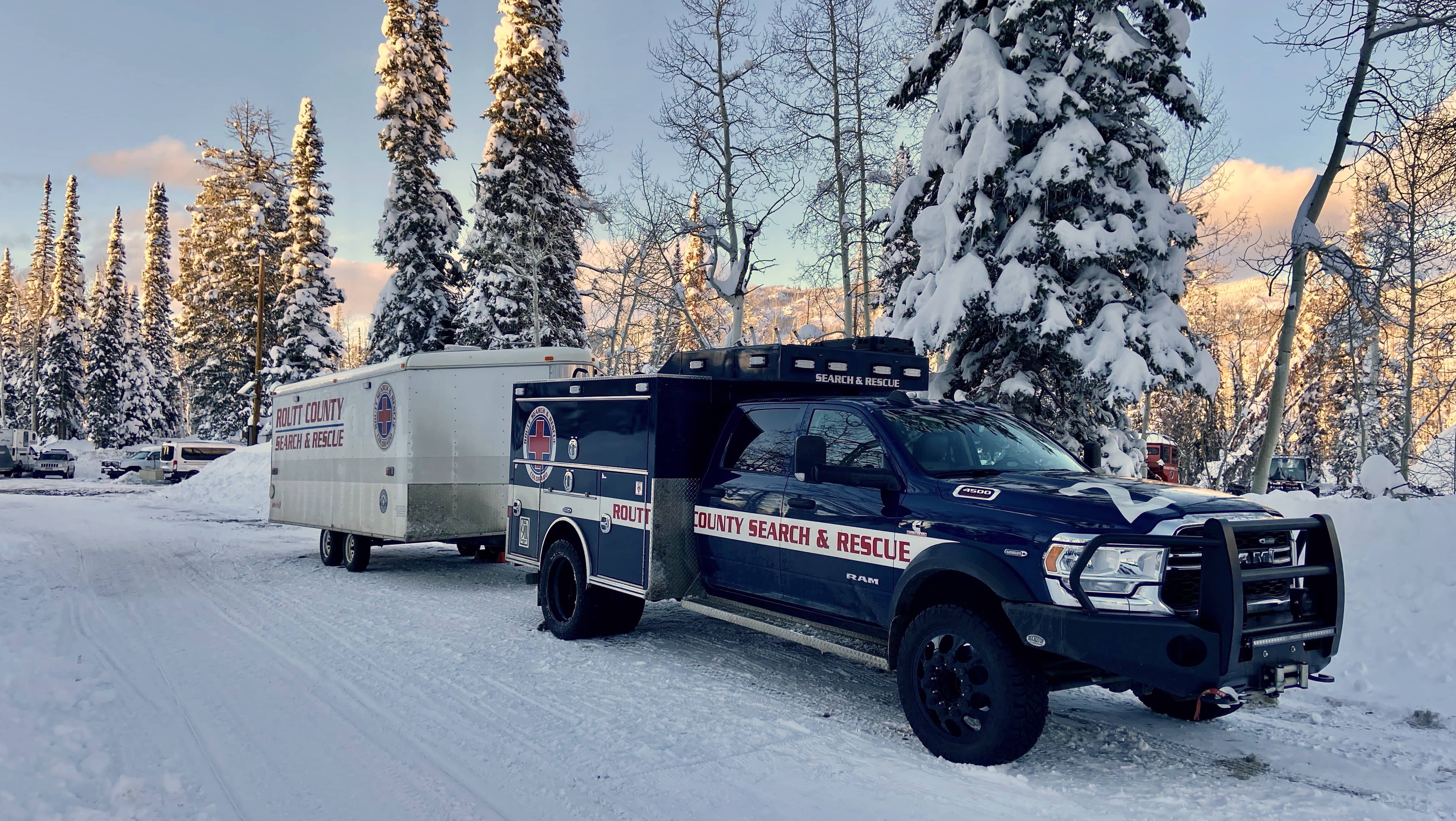 By Shannon Lukens. (File photo)
Routt County Search and Rescue helped rescue seven snowmobilers in a 19-hour mission starting Friday night. The seven men were from the Leadville area. They were stuck up between Long Lake and the second bridge in the Fish Creek Falls area. They were all safely rescued by the local search and rescue teams shortly after noon on Saturday, via Buff Pass.
Jay Bowman with Routt County Search and Rescue (RCSAR) says if you are recreating in the back country right now, be prepared to spend the night.
"The snow is so deep up on Buff Pass and Rabbit Ears right now. If you're snowmobiling you need to have some pro level skills to operate safely and effectively. And if you do need some help, you need to know that our response times are going to be extremely slow because it takes a lot of effort and time to road build and get a team into a lot of those areas up there. So we're just asking everyone who is up there recreating to go in and prepare to spend the night. That means lots of extra warm clothes, food, water, and the ability to build a fire, stay warm, and also make sure your cell phones are charged and you have maybe a backup charger. The SOS devices are great to have as well if your cell phone fails. So just be prepared to take care of yourselves up there for a long time, especially if you need us because it just takes so long right now to respond."
Bowman said the call came in around 6 p.m. Friday. Seven snowmobilers had become separated in two groups and most were stuck. This was between Long Lake and the second bridge at Fish Creek Falls. The call to RCSAR came in as second-hand information since they couldn't reach any of the snowmobilers. Eventually they spoke to one and his cell phone died before they could get a location. The snowmobiler activated an SOS call on a Garmin device so RCSAR was able to get a pin of their location.
Five RCSAR snowmobilers and three skiers on a side-by-side vehicle decided to enter at Buff Pass to begin the search. The other choice was Dumont Lake. A snowcat from Steamboat Powdercats went in to plow a road for the rescue team. They made it to Long Lake around midnight for staging for the rescue.
During that time, one of the snowmobilers was able to charge their phone to provide more details.
They had one party of three with two working snowmobiles but one sled had run out of gas. That group was eventually able to start a fire. RCSAR reached them by about 4 a.m.
The other group of four snowmobiles had all become stuck in the snow. The men were starting to try to walk out through the snowmobile tracks that were there from when they went in. Bowman says they couldn't go very far or very fast because of the deep snow and zero visibility.
RCSAR tried to send in four snowmobiles for the rescue but visibility was so bad that they had to have two skiers go in first. The two women skinned their way in in front of the snowmobiles. They eventually ran into the four men who were trying to hike out. RCSAR gave two of the men snowshoes and the other two rode on the RCSAR snowmobiles. That group didn't get out until noon on Saturday.
Jay Bowman says the snowmobilers that were rescued were reasonably experienced and they were all fine. He wishes they would have called RCSAR sooner.
Here is more on the rescue from Routt County Search and Rescue.
Routt County Search and Rescue says to always be aware of Backcountry Safety and Avalanche Danger.
Backcountry Safety and Avalanche Danger
Be aware of the avalanche danger for Steamboat and the FlatTops by going to the Colorado Avalanche Information Center website at https://www.avalanche.state.co.us/ 
Be prepared when going into the backcountry. Routt County Search and Rescue has some tips.
Be prepared
Know where you are going and know the terrain.
Don't go alone.
Let someone know where you are going and when you'll be back.
Make sure your cell phone battery is fully charged.
If in trouble, call 911, stay where you are and wait for rescue.
Carry the following if headed out:
GPS, map or compass.
Sun protection, sunscreen, glasses, a hat
Insulation with layers, gloves, handwarmers
Flashlight or headlamp with extra batteries
First Aid (bandaids and wipes)
Fire (lighter or waterproof matches, fire starter)
Tools (knife, zip ties, duct tape, a whistle, avalanche gear, shovel)
Nutrition such as high-energy snacks ( jerky, trail mix)
Hydration (water purifier and a cup to melt snow)
Shelter (sleeping bag, tent, tarp, space blanket)
For those interested in supporting Routt County Search and Rescue, here is a link to donate.