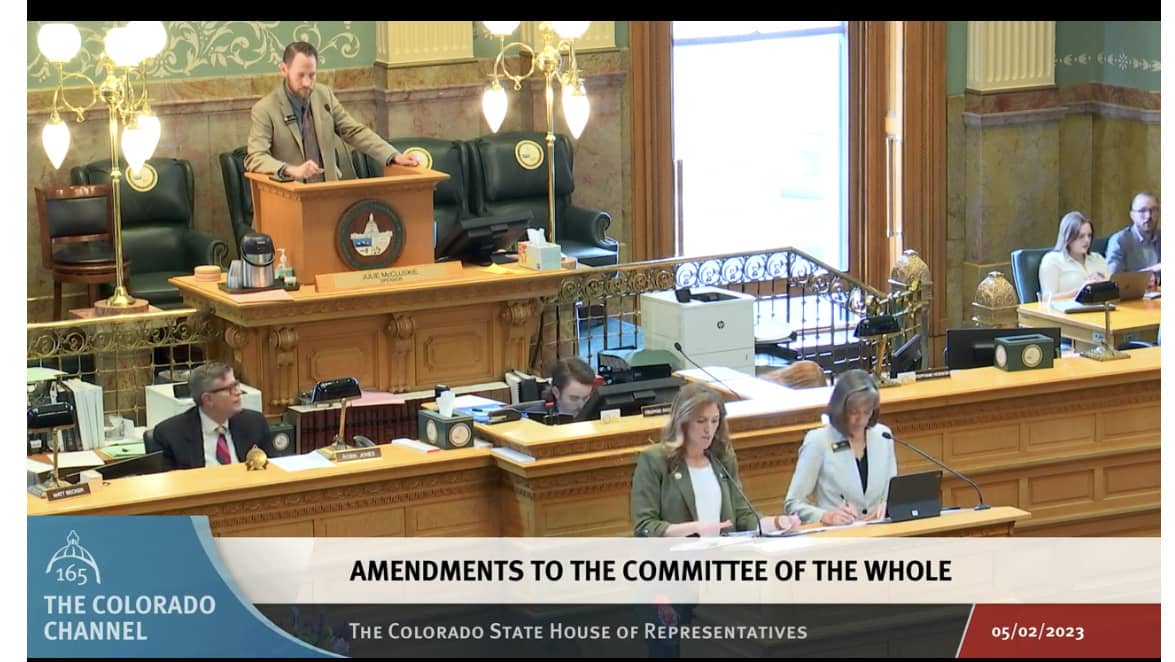 By Shannon Lukens.
The Colorado House passed Senate Bill 23-256 on third and final reading late Wednesday, which is the Management of Gray Wolves Reintroduction. 
"With 41 aye, 22 no, and two excused, Senate Bill 256 is adopted."
That's Colorado Speaker of the House, Julie McCluskie.
It now goes back to the Senate to approve amendments before heading to the Governor's office to sign into law or veto.
The bill would assure that livestock owners and Colorado Parks and Wildlife officers could use lethal management, if necessary, on gray wolves living in Colorado.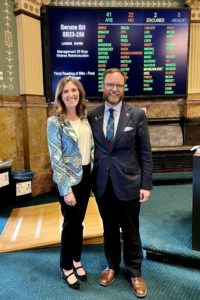 Representative Matt Soper from Delta is a co-sponsor of the bill in the House with Representative Meghan Lukens from Steamboat Springs.
"But I want to be very clear. Wolves are already here in Colorado. They migrated naturally from Wyoming. They've been in Jackson County attacking livestock and working dogs. And just last week, there was a CPW confirmed wolf sighting in Grand County and we must have management flexibility of wolves which is exactly what this bill does."
Representatives Soper and Lukens defended their bill during the 3rd Reading, final action, debate, Wednesday evening.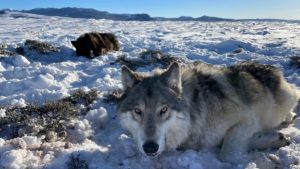 The wolves are already in Colorado, confirmed in Jackson and Grand counties, but voters have voted to reintroduce more wolves by the end of the year. Representative Mathew Martinez is in support of the bill, in consideration of the Latino farmers and ranchers in his district in the San Luis Valley
"This is not circumventing the process. This is not circumventing the voters. This is just making sure we're doing this right and making sure that we're protected and our farmers and ranchers are protected."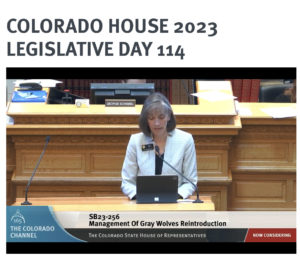 Representative Tammy Story from Jefferson County introduced five amendments to the bill, which all failed. Story is not in favor of SB23-256 and allowing CPW and livestock owners to have lethal management. She said, "Wolves make ecosystems healthier."
"Decades of experience from the Northern Rockies wolf has demonstrated that wolves and livestock can successfully co-exist. Wolves haven't negatively impacted the ranching industry in the Northern Rockies. There is no indication that they would do so in Colorado either."
Representative Tammy Story presented her debate in 3rd reading, final action  on Wednesday.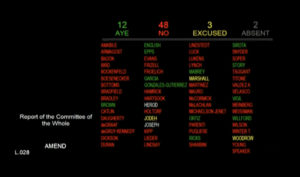 Story introduced five amendments on Tuesday and all failed by a verbal vote. She requested recorded votes, which also then all failed by votes of 46-14, 46-16, 48-14,44-18, and 50-12, with three to four excused on each vote.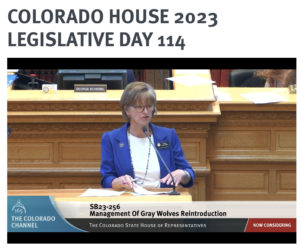 Representative Karen McCormick is a veterinarian from Longmont in Boulder County. She said during Second Reading on Tuesday that it is likely that 90% of residents in her county voted in favor of Proposition 114, to reintroduce the wolves to Colorado. She says she is in favor of the SB23-256 bill and that 10J has to be in place so that Colorado Parks and Wildlife can implement the best practices for management of the gray wolf.
"I will have no problem whatsoever talking to my constituents why I was a firm supporter of this bill and why I urge all of you to vote yes on this bill today."
(Karen McCormick LONG VERSION)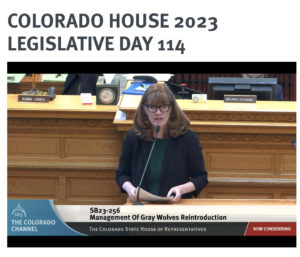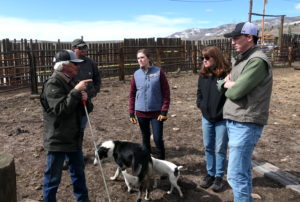 Speaker of the House Julie McCluskie is from Summit County and also represents Jackson County and Grand County, where wolves have been confirmed by Colorado Parks and Wildlife. Speaker McCluskie also spoke in support of the bill on Tuesday, and spoke of her visit to Don Gittleson's ranch in Jackson County, where at least three cows have died because of wolves.
"Those losses are detrimental, not just to his livelihood, but to his heart and soul. He cares about his livestock."
(Julie McCluskie LONG VERSION)
Here is the second reading vote on Tuesday.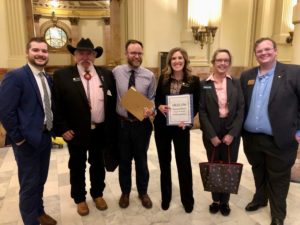 The House Agriculture, Water & Natural Resources approved the bill, 11-2, on April 24.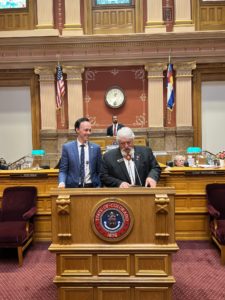 Sponsors in the Senate are Dylan Roberts and Perry Will, where it has already been approved 28-6, with one Senator excused, on April 17.
The Wolf Compensation Fund Bill also passed third and final reading in the House, by a vote of 63 in favor and no opposed, with two excused. The bill creates the wolf depredation compensation fund to compensate landowners and agricultural producers for depredation of livestock and working animals by wolves.
SB23-255 — Wolf Depredation Compensation Fund
Press Release from Colorado House; May 3, 2023.
House Approves McCluskie, Lukens Bipartisan Wolf Mitigation Bills
Bipartisan legislation helps to manage and mitigate the impacts of gray wolf reintroduction
DENVER, CO – The House today passed two bipartisan bills sponsored by Speaker Julie McCluskie and Representative Meghan Lukens to mitigate the impacts of Wolf reintroduction and support Western Slope ranchers.
"With the reintroduction of gray wolves comes property damage and loss of livestock for ranchers and farmers across the Western Slope," said Speaker Julie McCluskie, D-Dillon, sponsor of SB23-255. "When Proposition 114 was approved by the voters in 2020, the ballot measure promised compensation for farmers and ranchers who lose livestock or working animals to wolf attacks. With this legislation, we're ensuring that rural and mountain communities will have financial support to sustain their businesses after the reintroduction of wolves."
SB23-255, also sponsored by Representative Marc Catlin, passed by a vote of 63 to 0. It would ensure Colorado Parks and Wildlife has adequate resources to mitigate wolf conflict and fairly compensate the owners of livestock and working animals for their losses. Under the bill, the "Wolf Depredation Compensation Fund" would be created within the Colorado Department of Natural Resources to compensate livestock owners who suffer the loss or injury of their animals from wolf predation.
The bill follows through on a core commitment of Proposition 114 by ensuring money is available for livestock owners to be compensated for any losses.
"The 10(j) rule gives rural Colorado flexibility with the implementation of gray wolf reintroduction, reducing potential gray wolf conflict with ranching and farming communities that rely on their livestock to pay the bills," said Rep. Meghan Lukens, D-Steamboat Springs, sponsor of SB2-256. "I'm proud to carry this bill through the House to provide relief for rural and mountain Coloradans and fulfill our commitment to our agricultural communities."
SB23-256 is a bipartisan bill, also sponsored by Representative Matt Soper, that would ensure that prior to the reintroduction of wolves, a 10J Rule has been granted to Colorado from the U.S. Secretary of Interior.
When the gray wolf was listed as an endangered species in February 2022, proper management tools for Colorado Parks and Wildlife (CPW) and Colorado livestock owners were restricted. A 10J Rule would allow the state to manage wolves in cooperation with the United States Fish and Wildlife Service (USFWS) as an "experimental population" with more flexibility than typically afforded to listed species. It would permit ranchers and property owners to utilize lethal action as a method of last resort if their livestock or working animals are in immediate danger.
CPW is already in the process of requesting a 10J Rule from the federal government with hopes of its approval by December 2023. This bill works to ensure there are proper tools and resources available to manage gray wolves before their reintroduction. SB23-256 passed by a vote of 41-22.
SB23-255 and SB23-256 are accompanied by HB23-1265 in a bipartisan package of bills to reduce the negative impacts of wolf interaction for farms, ranches, and communities.
###