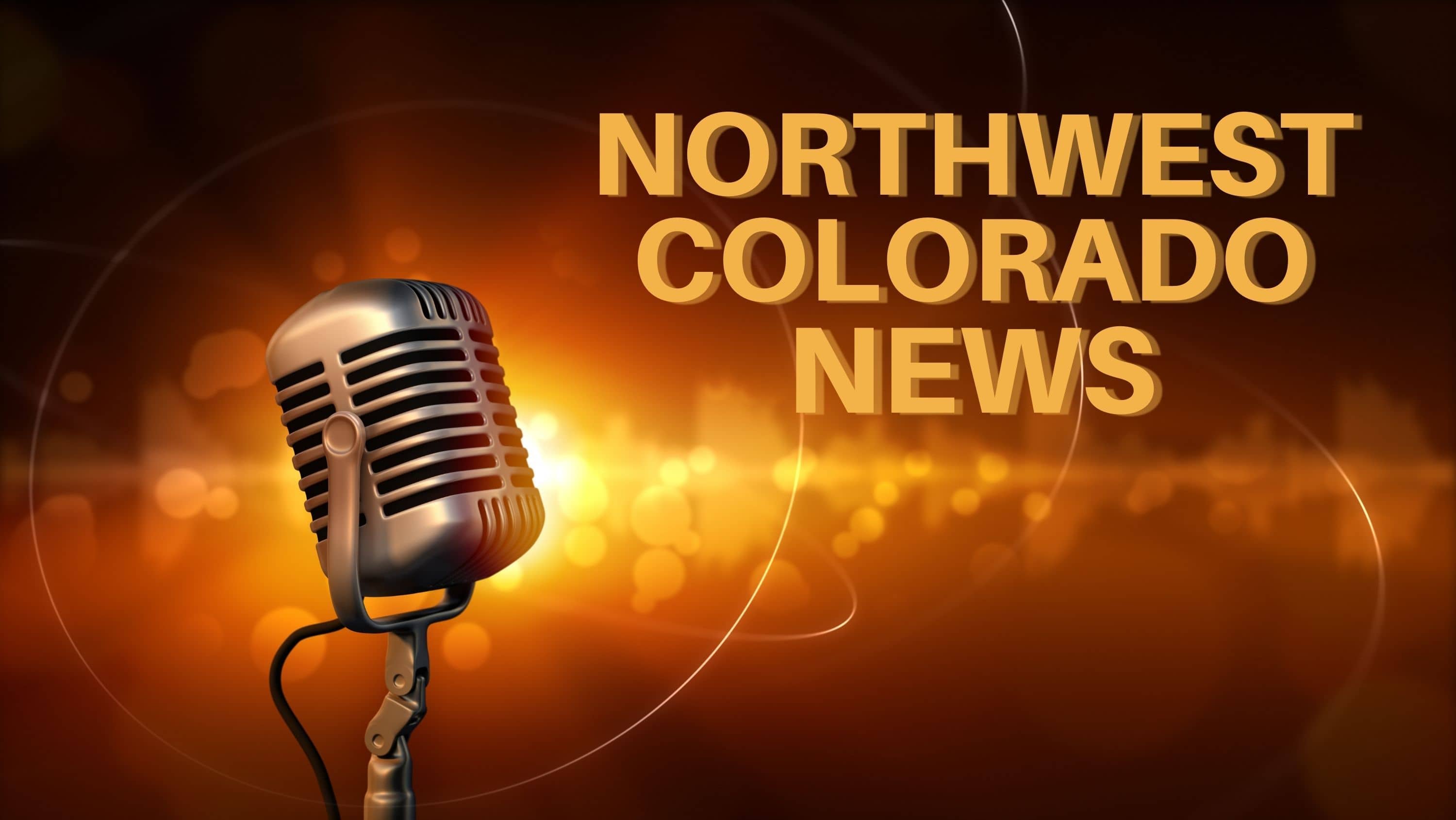 By Shannon Lukens.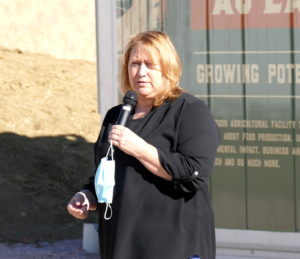 Moffat County High School Principal Sarah Hepworth is resigning from her job as principal. Superintendent Jill Hafey has confirmed that Hepworth will be leaving the district at the end of her contract, on June 30, and they wish her the best in her next adventure. Ryan Frink, the current Ridgeview/Maybell Elementary Principal has been approved by the School Board to be the leader of Moffat County High School and the Executive Director of grades six through 12.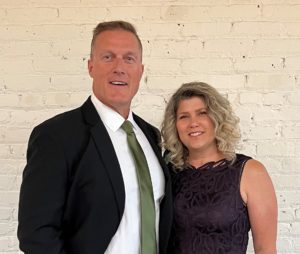 Lance and Nadine Scranton (Courtesy photo)
Moffat County High School Football Coach and teacher Lance Scranton is leaving the school district to take a teaching position 40 miles north of Craig, in Baggs, Wyoming. Scranton writes that retiring from the district, "was not in my wheelhouse until decisions within the school district here made it untenable for me personally."
He says that it has been a privilege to serve the Moffat County community but he feels an obligation to step aside and pursue a different path. "Little Snake River Valley welcomed me with an incredible amount of respect for my professional abilities and experience. The teaching move will be bittersweet but best for all parties involved." Scranton says he does not plan to do any coaching in Baggs.
Scranton will continue his local video business, Moffat County Proud. And he will continue to make his home in Craig. He adds, "It's a win-win situation and one that I am confident will work out spectacularly."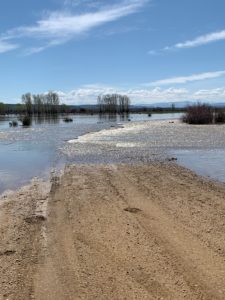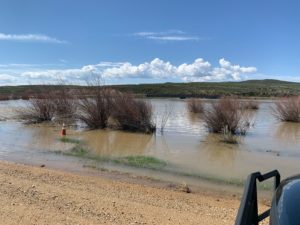 Photos courtesy Todd Wheeler
Moffat County road closures because of high water include County Road 2 at the intersection of County Road 1. Also, County Road 53 at the Yampa River and Juniper Springs because of washout and high water. The Moffat County Sheriff's Office says water is expected to continue to rise which could extend the closure.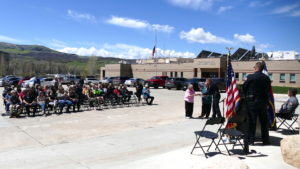 Routt County Law Enforcement recognized the four officers who have died in the line of duty Wednesday, and also five officers who have died while still serving. Here's Sgt. Sam Silva.
"I think this is really important because in my career here, I've lost five close friends and co-workers to deaths that weren't directly involved in the line of duty but they were still related to work and it's great that they are being recognized."
Wednesday's ceremony of "Honoring our Heroes," was in recognition of National Police Week.
Those officers who died while serving are:
Jeff Wilson – April 3, 2020
Dale Coyner – Dec. 4, 2010
JD Hayes – Retired
Clark Kreger – Feb. 1, 2015
Patrick Akers – Dec. 27, 2008
Those officers who died in the line of duty are:
Deputized Civilian Val Hoy was shot and killed while riding with a posse attempting to arrest a man wanted for cattle rustling and the shooting of a teenage boy on a ranch near Rock Springs, Wyoming, just north of the Colorado border. Deputy Hoy was a Union Army veteran of the Civil War. EOW: March 1, 1898.
Town Marshal Clem Eller was shot and killed while attempting to arrest a man for selling illegal liquor at a dance hall. As Marshal Eller approached, the subject drew a handgun and fatally shot him. The suspect was convicted of Marshal Eller's murder and sentenced to life in prison. EOW: November 5, 1927.
Deputy Sheriff Charles Gibbs, Sr., was killed when he was caught in an avalanche 22 miles northwest of Steamboat Springs while on his way to serve papers on two miners. A search party found his body under tons of snow the next day. Deputy Gibbs was a U.S. Army veteran of WWI. EOW: March 21, 1929.
Officer James Chew was shot and killed by an escapee from a Washington state prison. The suspect had been the focus of a manhunt in the area for several days. Officer Chew was a U.S. Marine Corps veteran and had served with the Steamboat Springs Police Department for four years. EOW: July 28, 1972.
NATIONAL POLICE WEEK HONORS ROUTT COUNTY HEROES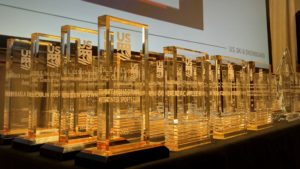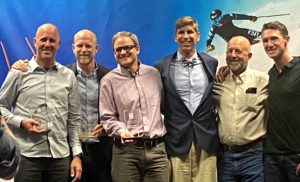 Steamboat Springs Winter Sports Club has been named as the 2023 U.S. Ski & Snowboard Club of the Year for the fifth time. The club was also honored as Alpine Club of the Year, and Freestyle Club of the Year. The banquet was last night in Utah. Jon Nolting is the Chief Operating Officer of the club. He credits the community.
"It's because of our community in Steamboat… Ski Town USA. The fact that over half the kids in our community participate in one of our ski or snowboard programs. There's tremendous support from the city, there's tremendous support from the resort, and that just allows us to do really incredible things with our great coaches for the kids."
Winter Sports Club Technical Director and U16 Coach Ben Brown is also the Development Coach of the year and Alpine Domestic Coach of the Year. And there's more and that list is on our website.
SSWSC IS NAMED 2023 U.S. SKI & SNOWBOARD CLUB OF THE YEAR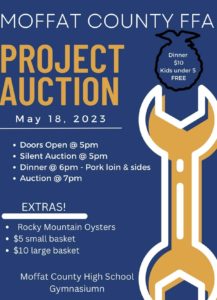 The annual Moffat County FFA Project Auction and Dinner is Thursday, May 18.  The doors open at 5 p.m. and dinner is at 6 p.m. with the auction at 7 p.m. It's $10 per person but kids under five are free. It's in the gym at Moffat County High School and all are invited to see what the FFA students have been creating.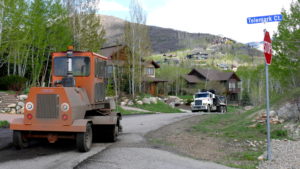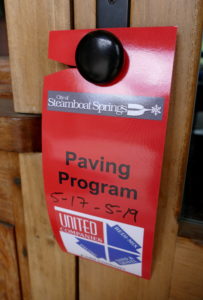 Paving has started on city streets in Steamboat Springs. It's a $1.7 million dollar contract awarded to United Companies. They'll apply about 8,000 tons of asphalt, remove more than 65,000 square yards of millings across 12 city streets and three alleys. We have a list of the streets getting repaved on our website. But if it is your street, and it's about to get done, you will get a notice on your door, asking you to not park on the street. And also asking for patience during the project. The repaving should be completed by June 18.
HERE'S THE LIST OF WHICH STREETS IN STEAMBOAT SPRINGS ARE GETTING REPAVED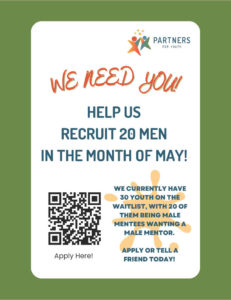 The "Partners" organization is looking for some male mentors. This is for Routt and Moffat counties. They have 30 youth on a waitlist and they especially need men to help be a mentor. Applications are at PartnersYouth.org or reach out to Erin@PartnersYouth.org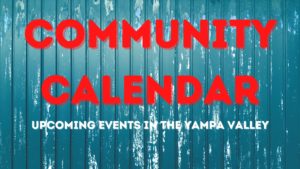 Check out what's happening in the Yampa Valley on the Community Calendar.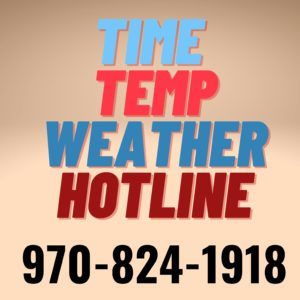 For the KRAI Time, Temp, and Weather Hotline, call 970-824-1918.