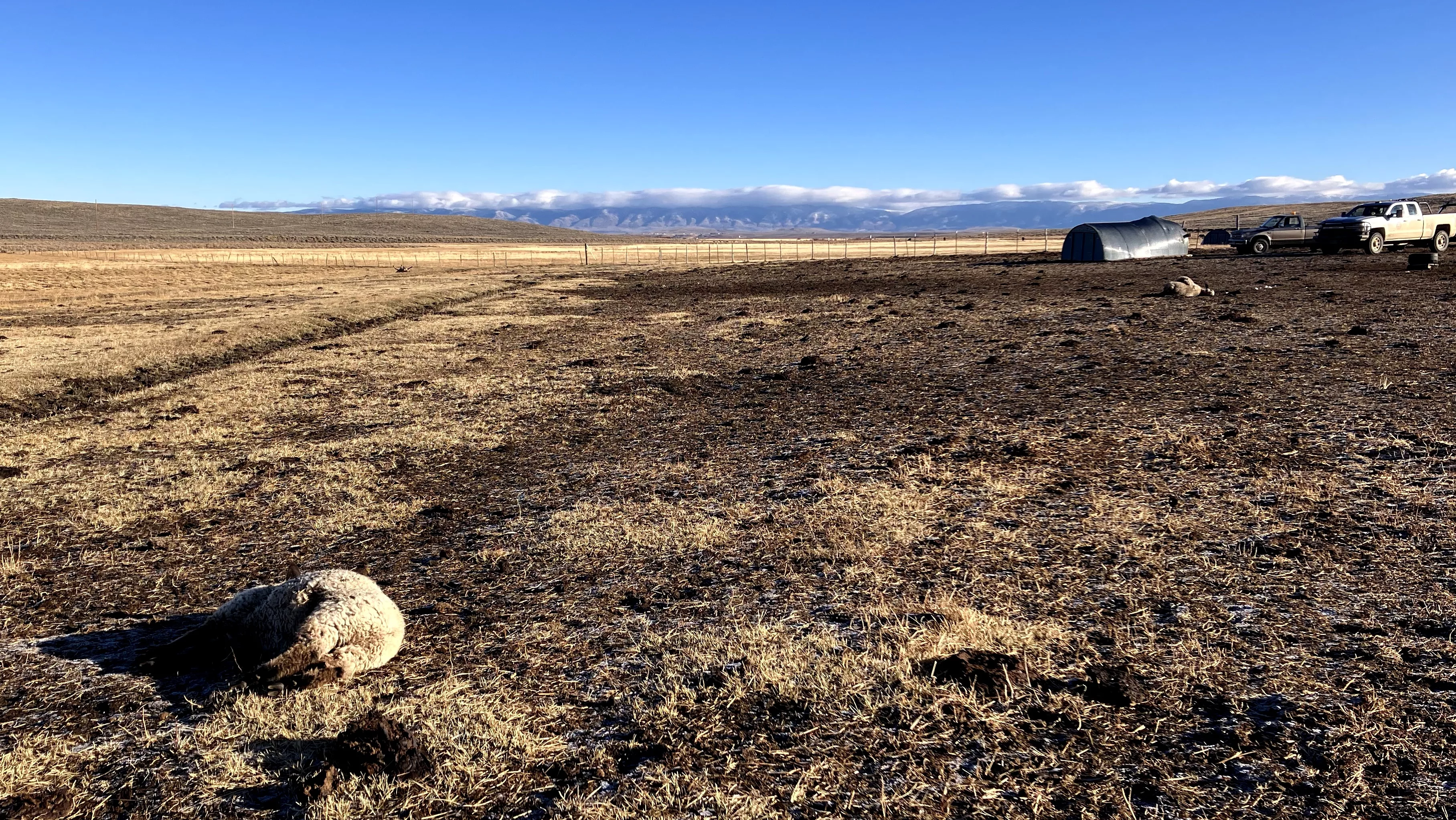 By Shannon Lukens. (WARNING – PICTURES ARE GRAPHIC.) Photos courtesy Brian Anderson.
UPDATE on TUESDAY, NOV. 21, from Travis Duncan with Colorado Parks and Wildlife.
On the morning of November 17, CPW received a report of a possible depredation incident after a rancher found three dead lambs on his property in southern Jackson County. A CPW wildlife officer responded and conducted a field investigation.
"The results of this investigation indicated wounds on the carcasses consistent with wolf depredation," said CPW Area Wildlife Manager Kris Middledorf. "The field investigation found signs of hemorrhaging, indicating the attack occurred while the animals were still alive and the carcasses were not scavenged."
CPW provides reimbursement for damages caused by gray wolves to livestock defined in C.R.S. 33-2-105.8 and animals used for guard/herding purposes and provides conflict minimization materials under its Gray Wolf Compensation and Conflict Minimization Program.
Three more head of livestock have been killed by a wolf in Jackson County. This time it's three sheep owned by rancher Brian Anderson. He discovered them in his field on the ranch Friday morning, Nov. 17.
"We went out there and found some sheep that were not alive."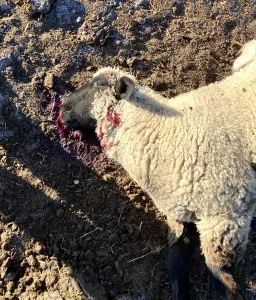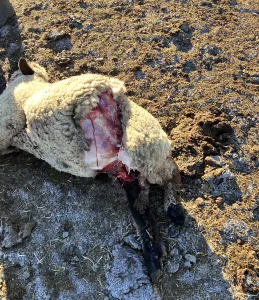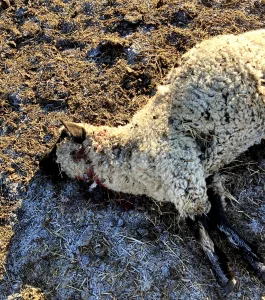 Colorado Parks and Wildlife officers came out and did necropsies on the dead sheep. Anderson says they found canine marks and confirmed to him that a wolf was in the area from the GPS collar on the wolf and that it was wolf depredation. We have also reached out to CPW for confirmation.
"Nobody likes to lose livestock but it's the game that we have to prepare for with the reintroduction."
Colorado residents voted by a slim margin to reintroduce wolves to Colorado, which is set to happen by the end of this year.
Anderson will apply to get compensated for the loss from the state.
"I'm not saying that I'm happy about it and I'm not saying that I'm blistering mad about it either because we all knew that it was coming. It wasn't a matter of when or if. It was a matter of how many and when it was going to happen."
As far as compensation, Miles Blumhardt with the Coloradoan out of Fort Collins has an update on Fiscal Year Compensation for wolf depredation that he has shared with Steamboat Radio News.
FY22 Claims
Two dogs – $1,252.75
One calf heifer – $1,800
Three cattle – $8,647
Two cattle – $1,230
FY22 total: $12,929.75
FY23 Claims
One calf – $338.62
One heifer – $1,106.09
One bull calf – $2,850
One bull calf – $3,000
One bull calf – $400
One bull calf – $3,000
One dog (border collie) – $15,000
One calf – $779.52
FY23 total: $26,474.23
How many total claims were made?
In FY22, compensation costs amounted to $12,929.75 in settlement of four wolf damage claims.
In FY23, compensation costs amounted to $26,474.23 in settlement of eight wolf damage claims.
In FY24, there have been no wolf damage claims.
The Anderson Ranch is in the middle of Jackson County.
Also, the 10J rule is set to go into effect Dec. 8, which would allow lethal management for ranchers and landowners, if a wolf is attacking their livestock or pets.
Past Steamboat Radio News Coverage, from most recent to oldest
Nov. 17, 2023 – CPW AND CDA ANNOUNCE AGREEMENT TO WORK TOGETHER ON WOLF REINTRODUCTION
Nov. 7, 2023 – U.S. FISH AND WILDLIFE SETS DATE FOR 10J RULE FOR WOLVES
Oct. 6, 2023 – COLORADO WILL RECEIVE WOLVES FROM OREGON
May 16, 2023 – GOV. POLIS VETOES 10J RULE WOLF BILL
May 3, 2023 – CPW COMMISSION APPROVES FINAL WOLF RESTORATION AND MANAGEMENT PLAN 
May 2, 2023 – MANAGEMENT OF GRAY WOLVES REINTRODUCTION BILL PASSES IN STATE HOUSE
May 2, 2023 – CPW MEETS THIS WEEK FOR FINAL WOLF MANAGEMENT PLAN 
April 27, 2023 – CPW CONFIRMS WOLF SIGHTING EAST OF KREMMLING
April 8, 2023 – CPW WOLF COMMISSION MEETS IN STEAMBOAT SPRINGS 
April 3, 2023 – CPW TO PRESENT FINAL DRAFT WOLF RESTORATION AND MANAGEMENT PLAN IN STEAMBOAT SPRINGS
March 28, 2023 – THE SOUTHERN UTE TRIBE ASKS THAT CPW RELEASES WOLVES ALONG I-70 CORRIDOR
March 15, 2023 – TWO DOGS DIE FROM WOLVES IN JACKSON COUNTY THIS WEEK
March 3, 2023 – COLORADO PARKS AND WILDLIFE COMMISSION RELEASES WOLF REINTRODUCTION MEETING RECAP 
Feb. 21, 2023 – WOLF 2101 RECAPTURED AND RECOLLARED IN JACKSON COUNTY
Feb. 21, 2023 – 10J RULE MEETINGS WITH REGARDS TO WOLVES SCHEDULED FOR NW COLORADO BY US FISH AND WILDLIFE
Feb. 3, 2023 – TWO WOLVES ARE CAPTURED AND COLLARED IN JACKSON COUNTY THURSDAY
Jan. 17, 2023 – STATE LEGISLATORS HEAR MORE ON WOLF REINTRODUCTION AT JOINT COMMITTEE HEARING
Dec. 13, 2022 – MORE WOLVES VISIT GITTLESON PROPERTY IN JACKSON COUNTY THIS WEEK
Dec. 12, 2022 – NORTH PARK RANCHERS MEET WITH CPW REGARDING WOLF REINTRODUCTION PLAN
Dec. 10, 2022 – CPW RELEASES DRAFT COLORADO WOLF RESTORATION AND MANAGEMENT PLAN
Nov. 19, 2022 – ANOTHER WOLF ATTACK REPORTED IN JACKSON COUNTY 
Oct. 9, 2022 – WOLVES ATTACK CALVES IN RIO BLANCO AND JACKSON COUNTIES
July 14, 2022 – CPW UPDATES THE WOLF PACK IN JACKSON COUNTY
June 20, 2022 – WOLF MANAGEMENT DISCUSSED AT MEETING IN WALDEN
June 15, 2022 – WOLVES IN NORTH PARK ARE SUBJECT AT MEETING MONDAY, JUNE 20
May 30, 2022 – THE GITTLESON RANCH LOSES ANOTHER CALF TO WOLVES, THEY SAY
May 5, 2022 – AT LEAST TWO MORE CALVES KILLED BY WOLVES ON GITTLESON RANCH
March 17, 2022 – WOLVES ATTACK ANOTHER DOMESTIC COW IN JACKSON COUNTY
Feb. 10, 2022 – MONTANA STOCKGROWERS VOICE SUPPORT FOR COLORADO RANCHERS OVER THE WOLVES
Feb. 9, 2022 – WOLF MANAGEMENT DISCUSSED BY LOCAL RANCHERS AND OFFICIALS AT FORUM IN STEAMBOAT
Jan. 22, 2022 – WOLF MITIGATION OPTIONS
Jan. 19, 2022 – ANOTHER COW KILLED OVERNIGHT IN NORTH PARK BY WOLVES
Jan. 18, 2022 – TWO MORE COWS ATTACKED BY WOLVES IN JACKSON COUNTY TUESDAY
Jan. 12, 2022 – CPW ALLOWS WOLVES TO BE HAZED IN EMERGENCY DECLARATION
Jan. 10, 2022 – A WOLF PACK KILL IS REPORTED IN JACKSON COUNTY OVER THE WEEKEND
June 9, 2021 – WOLF DEN WITH PUPS CONFIRMED IN NW COLORADO